Dairy Free Cantaloupe and Prawn Starter
This dairy free cantaloupe and prawn starter recipe is also nut free and soy free, as well as dairy free. The delicious prawn salad is served inside a cantaloupe melon, making this a very attractive starter recipe as well as a delicious one. You can either cut the cantaloupe melons into wedges and serve them with the salad or use this recipe as the centrepieces for a buffet table. This is a colorful and appetizing starter recipe.
Cantaloupe and Prawn Starter: Tweaks You Can Make
You don't have to use the melon at all for this seafood starter recipe if you don't want to and a bed of salad leaves is fine instead. Use baby spinach, meslun, arugula or whatever mixture of crisp seasonal salad leaves you prefer.
Saying that though, melon and prawns go together really nicely. The prawn salad contains spring onions, cucumber, basil and more. The dressing is a tasty mixture of olive oil, vinegar, mustard and garlic.
You can make this starter in the morning if you are feeding people in the evening. Actually it tastes better if you let it chill in the fridge all day and the flavours combine really well.
Cantaloupe and Prawn Starter: Always a Perfect Dish
This cantaloupe melon and prawn starter is ideal if you want to serve filling starters or if you want to serve snacks rather than something too filling. Melon is healthy and the prawn salad is also highly nutritious, making this a great choice if you want to serve a light lunch or dinner which is guaranteed to be wonderfully satisfying.

Dairy Free Prawn Salad with Melon
There are no dairy products in this recipe but you don't need them because all the flavor comes from the melon, prawns and other flavors in the dish. This dairy-free starter recipe boasts a great taste.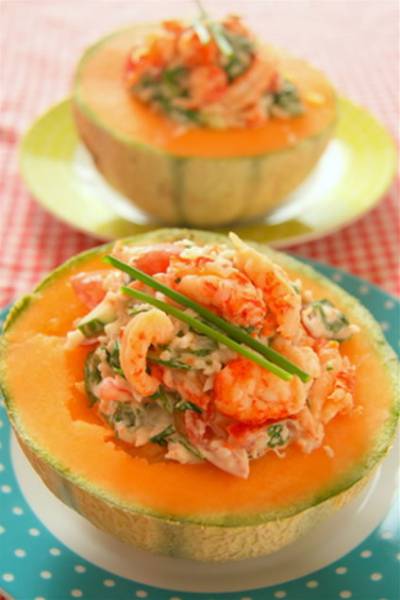 Author:
Victoria Haneveer
Prep time:
Cook time:
Total time:
Ingredients
4 cantaloupe melons, halved
5½ tablespoons white wine vinegar
5½ tablespoons olive oil
5½ tablespoons Dijon mustard
½ teaspoon salt
1 kg (2 lbs) medium prawns, not peeled
2 celery stalks, chopped
1 bunch spring onions (green onions), chopped
10 cm (4 inch) piece of cucumber, chopped
2 teaspoons sugar
2 minced cloves garlic
2 tablespoons fresh basil leaves, torn
¼ teaspoon black pepper
2 tablespoons paprika
2 litres (4 pints) water
8 chives, to garnish
Instructions
Bring the water to a boil, then add the prawns.
Cook them for about 3 minutes or until they go pink.
Drain them and rinse with cold water.
Peel and de-vein the prawns, then chill them in the fridge.
Whisk the olive oil, vinegar, paprika, mustard, sugar, salt and pepper together, then stir in the garlic, cucumber, basil, celery and green onions.
Add the prawns and toss well to coat.
Cover and chill in the fridge for 3 hours.
Cut the cantaloupe melons in half and scoop out the seeds.
Divide the prawn salad between the cantaloupe halves and garnish each one with a couple of chives.
This colorful cantaloupe and prawn starter starter recipe (appetizer) is simple to make. The melon is filled with a delicious dairy-free prawn salad, which contains garlic, fresh basil and more, and fresh chives make an attractive garnish. You can use any kind of melon you like for this dairy free starter actually, because all melon varieties are great with the taste of prawns. Choose a baby variety if you want to serve individual starters or a large one if you want to present the starter on one platter at the table. You can also save time by using ready cooked prawns but cooking your own gives this melon and prawn starter recipe a fresher flavor.
Some More Hot Content For You
Other Posts You Might Like