Fish Mousse Starter Recipe
This delightful fish mousse starter recipe is simple to make and guaranteed to start your dinner off in style. If you want to learn how to make fish mousse, this is a great recipe to use because the mousse tastes fresh and flavorful, without being too strong. Serve it with crackers or bread.
A Great Starter Idea
Fish mousse goes nicely before any main course. This fish mousse starter recipe is made with smoked salmon but you can use any kind of fish – perhaps tuna, trout or something else.
This is a very basic recipe and it combines fish, cream, gelatin to make it set, a bit of dill and some lemon, so you can be creative.
Serve this delicious fish mousse starter recipe with some cream poured over it and a few sprigs of parsley. Another nice serving idea is to put the fish mousse into a piping bag and pipe it on to crackers or Melba toast. Fish mousse is versatile and you can serve it however you fancy. Offering a typically French charm, this recipe is something that will catch your dinner guests' eyes because they probably won't have sampled anything quite like this before. Look at the ingredients list though and you will see you need very few ingredients to make it.

Easy Fish Mousse
Simple to make yet exquisite in flavor, this fish mousse is great, offering a nice mouth-feel. The salmon is combined with cream, dill, lemon and parsley, for a simple, rustic and typically French result.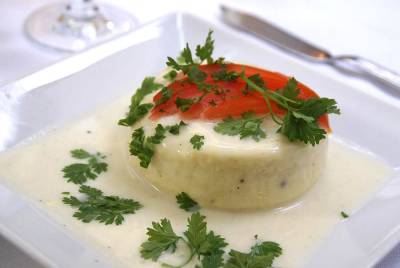 Author:
Victoria Haneveer
Prep time:
Cook time:
Total time:
Ingredients
300ml (1.25 cups) heavy whipping cream (35% fat) plus extra to serve
1 teaspoon gelatin powder
1 tablespoon chopped fresh dill
75g (3 oz) finely chopped smoked salmon, plus extra for garnish
1 teaspoon finely grated lemon peel
Bunch fresh parsley
Instructions
Mix 3½ tablespoons of the whipping cream with the gelatin powder and lemon zest and let it stand for about 5 minutes.
Heat the mixture in a pan over a low to moderate heat until the gelatin dissolves then leave it to stand until cool.
Stir the dill and salmon into this mixture and whip the rest of the cream until it forms firm peaks. Fold ¼ of it into the salmon, then add the rest.
Cover and chill the salmon mousse until it is thick.
It is best made the day before you serve it.
Serve each portion with cream poured over it, a piece of smoked salmon on top and some fresh parsley.
This delicious fish mousse starter recipe makes a stunning looking starter recipe, you will certainly agree. Fish mousse can be made with all kinds of fish and you can choose from mackerel, trout, salmon, haddock, monkfish and more. It is nice to use subtle flavored fish when making fish mousse recipes. The overall flavor should be a combination of the cream, lemon, dill and a mild fish taste, without anything being too overpowering. This fish mousse recipe is nice to serve before any meat, fish or poultry main course. You can also pipe the mousse on to crackers to serve at buffets.
Some More Hot Content For You
Other Posts You Might Like