The Benefits of Cooking Authentic Chinese Recipes
Authentic Chinese recipes are incredibly popular and have several different benefits, which is why more people than ever before are searching for the best recipe ideas.
You might enjoy Chinese food but it's fair to say that authentic Chinese recipes will taste very different. Once you have discovered several different recipes to try at home, you can begin to enjoy these benefits and appreciate real Chinese food for what it really is.
Why Choose Authentic Chinese Recipes?
Chinese food is considered to be incredibly healthy and very fast to make, ensuring that it is the perfect snack food.
Many of the authentic Chinese recipes which you can make include vegetables, less fat, and cooking methods, which lock the flavor into the food.
You can choose a huge array of different authentic Chinese recipes, including wontons, noodles, rice and stir fry. Food is obviously a huge part of life for the Chinese just as it is for the rest of us, and Chinese folk are rightly proud of their heritage and recipes.
You will not need much in the way of specialist cooking equipment to start cooking Chinese but a bamboo steamer, a wok, some chopsticks and a few good Chinese recipes will start you off on the right vein.

Traditional Wonton Recipe
Discover how to make wontons like a Chinese chef. These wontons are filled with a pork and green onion mixture. This is a very basic recipe and ideal for beginners.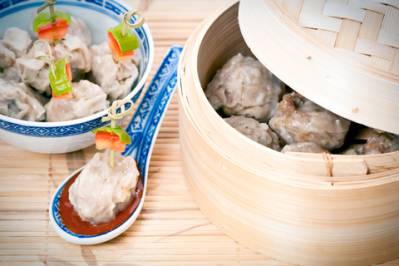 Author:
Victoria Haneveer
Prep time:
Cook time:
Total time:
Ingredients
½ package square wonton wrappers
1.2 lbs filling, eg ground pork
1 chopped green onion
½ cup water
1 small piece of ginger
1 tsp pepper
1 tsp salt
1 tsp white sugar
1 Tbsp cornstarch
1 Tbsp sesame oil
Instructions
Put onion, ginger and water into a blender and mix until a paste
Mix ground pork, salt and sugar together
Add ginger paste mixture to the pork and mix slowly
Add the cornstarch, oil and pepper
Fill the wonton wrapper, wet the edges, and fold over to create a triangle
Cook the wontons in a pan of boiling water
Drain and serve
Straightforward Cooking Methods for Authentic Chinese Recipes
Authentic Chinese recipes are designed to be simple and incredibly easy to prepare, cook and serve. The cooking methods are designed to only use one pan, which is a wok for stir frying and cooking many of the dishes.
The recipes are basic but full of ingredients, flavors and nutrients, which makes them ideal for families, whether you are making a wonton recipe, a stir-fry or something else.
Authentic Chinese Recipes: Selecting the Best Ingredients
The ingredients for the authentic Chinese recipes are usually harder to find; however, if you search the different Asian markets and shops, you will find the perfect ingredients.
To make authentic Chinese recipes, you need to ensure that you follow the recipe correctly and use the ingredients stated. Diverting from the recipe will remove the authentic element and make it taste like every other Chinese meal.
Wonton recipes are straightforward and an example of an authentic Chinese recipe which you can make at home. This traditional recipe is ideal as a snack or a light evening meal, filled with meat or fish of your choice.
Norpro Deluxe 3-Piece Bamboo Steamer Set
Some More Hot Content For You