Bacon Wrapped Avocado Appetizers
These bacon wrapped avocado appetizers are absolutely gorgeous and you can serve them as an appetizer or side dish. They are low in carbs (if you leave out the sugar) but high in flavor.
Spicy or Mild, Your Choice
Use the chili or cayenne pepper if you wish, or just have the bacon wrapped avocado appetizers without if you want a milder finish. These are great to pop into the oven when you have something else cooking on the stove.
I wasn't sure these would work the first time I made bacon wrapped avocado appetizers. I have made bacon-wrapped shrimp before, and bacon-wrapped cheese, but this is the first time I used avocado. Although avocado is usually served raw, you can cook it or at least heat it. It also freezes well if you puree it with sweetened condensed milk, to make ice cream.
If you accidentally cut open an avocado which isn't ripe enough to enjoy, then why not make these appetizers? The brief cooking time softens the avocado a bit, and the contrast between the salty bacon and the creamy avocado is fantastic.

Bacon Wrapped Avocado
Avocado pieces are wrapped in bacon and baked, to make this wonderfully simple appetizer. Serve these hot from the oven and you will really like their incredible taste.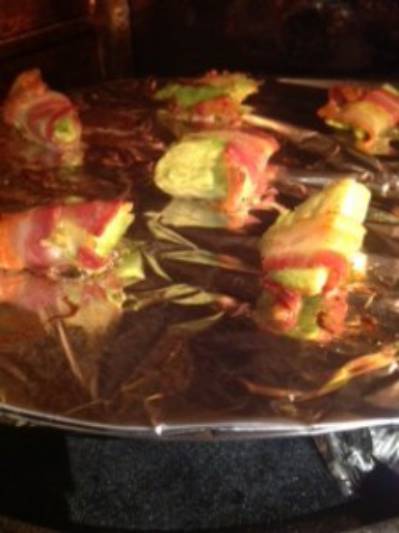 Author:
Victoria Haneveer
Ingredients
6 bacon strips
½ teaspoon chili powder
1 avocado
⅓ cup brown sugar
Instructions
Preheat the oven to 425 degrees F.
Mix the sugar with the chili powder.
Line a baking sheet with aluminum foil.
Remove the pit from the avocado and cut into ¾ inch lengthwise slices.
Slice through the middle to cut all of the slices in half so that you end up with thick avocado chunks.
Cut each slice of bacon in several pieces and wrap each piece around the avocado.
Roll them in the brown sugar mixture and arrange on the baking sheet.
Bake for 12 minutes then remove to a platter and stick a toothpick into each for serving.
Notes
If you want to make a low carb version of these, omit the brown sugar.
Nutrition Information
Calories:
857
Fat:
49g
Saturated fat:
11g
Unsaturated fat:
34g
Trans fat:
0g
Carbohydrates:
90g
Sugar:
73g
Sodium:
1207mg
Fiber:
14g
Protein:
22g
Cholesterol:
54mg
Some More Hot Content For You
Other Posts You Might Like