Best Loaded Nachos Comfort Food Style
So you want to make the best loaded nachos comfort food? You've come to the right page. Very few dishes offer as much as nachos do, and that includes the wonderful flavors combining spicy with creamy with mild, as well as textures because you have all kinds of those, ranging from soft to crunchy. Nachos can be served as a snack, appetizer or meal, and homemade nachos are, of course, the best!
The following best loaded nachos comfort food recipe combines nachos with beef, homemade pico de gallo, cheese, spices, and more. But this is your recipe so you could take inspiration from the photo and use leftover roast beef instead of the ground beef if you want, or swap the guacamole for chopped avocado, or use queso fresco instead of cheddar.
Just use any toppings you want on this best loaded nachos comfort food and you are sure to end up with a wonderful result. Nachos are typical comfort food and everyone gets excited when you are making them. They are also very cheap to make.
Best Loaded Nachos Comfort Food: Cheap and Cheerful Snack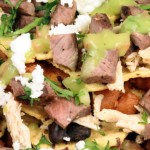 Consider the price of a big bag of tortilla chips, then factor in cheese, salsa, sour cream and ground beef, and you will see how economical this dish really is. Leave out the meat and your nachos are cheaper plus vegetarian-friendly.
Something I love to do is swap the ground beef for leftover chili when making a best loaded nachos comfort food recipe because that is already spiced to perfection. I actually make extra chili just because making nachos topped with it is such an amazing dish, and a winner for any occasion. The kids will love them as much as the grownups do.
Also, serving that over tortilla chips is as nice (or nicer!) than serving it over rice or with a baked potato.
That would be because you get to add all your favorite toppings like the cheese, guacamole, pico de gallo or salsa, chopped red onion, sour cream, black olive slices, or whatever else comes to mind. Is your mouth watering yet?
Fun Facts About Nachos
Nachos can be traced back to Piedras Negras, a city in Mexico, in 1943. US soldiers' wives went to the Victory Club, a local restaurant, after closing, and the maitre d' who was called Ignacio (Nacho to friends) invented nachos, using ingredients he had in the kitchen, namely tortillas and cheese.
He would cut those tortillas into triangles and add sliced jalapenos and cheddar. Calling the dish 'nachos especiales' Ignacio found this recipe to be very popular. Our best loaded nachos comfort food recipe isn't too different!
Nachos are called 'totopos' in Mexico and National Nacho Day falls on November 6th. The recipe book 'A Taste of Texas' was the first to mention nachos in print, in 1949.
Pregnant women crave nachos more than any other snack, and the simplest way to make this dish is to top tortilla chips in shredded or nacho cheese and add salsa (unless you live in the Netherlands like I do right now and nachos are just tortilla chips with a tiny cup of salsa – sigh).

Best Loaded Nachos Comfort Food Style
These nachos combine crunch with spice with creamy cheese and of course don't forget the beef. Offering a real treat for the palate, this is easy to make and oh so comforting to eat. Buen provecho!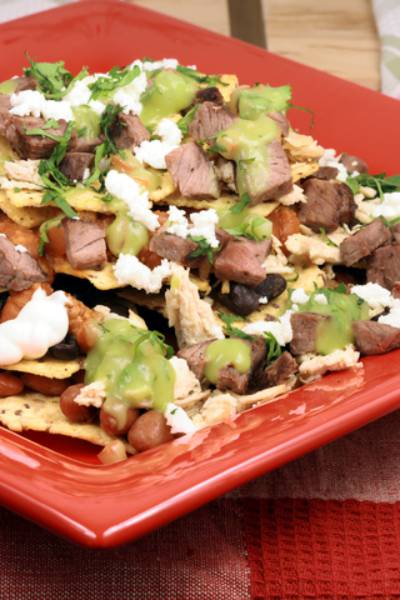 Author:
Victoria Haneveer
Prep time:
Cook time:
Total time:
Ingredients
2 pounds (900g) ground beef
¼ teaspoon crushed red pepper
1 diced, pitted avocado
1 tablespoon olive oil
1 diced yellow onion
1½ cups Monterey Jack or Mexican cheese blend
6 diced fresh Roma tomatoes
1 finely diced fresh jalapeno
½ bunch chopped cilantro leaves
14 oz (400g) can beans (pinto, chili or ranch style)
½ cup (120ml) hot water
1 package tortilla chips
1½ cups grated cheddar
½ teaspoon each chili powder, paprika, salt, black pepper, and cumin
Juice of a lime
½ teaspoon salt
Sour cream, guacamole and/or black olive slices (optional)
Instructions
Saute the onion in the oil in a skillet over a moderately high heat until beginning to soften.
Add the beef and brown it fully, then drain off the fat.
Stir in the chili, cumin, paprika, salt, black pepper and red pepper.
Add the hot water and beans and stir, then turn the heat down to a simmer.
Mix the other half of the onion with the jalapeno, tomato, lime juice, ½ teaspoon of salt and cilantro to make pico de gallo.
Arrange the tortilla chips on a large plate, then top with the beef mixture.
Add all the cheese apart from about ¼ cup (30g) of the cheddar.
Add more chips, more of the beef mixture then Monterey Jack cheese.
Add the remaining chips then the remaining beef mixture and finally the rest of the cheddar.
Microwave until the cheese is melted and starting to bubble.
Check it ever 45 seconds.
Another idea is to put the plate (if it is heatproof) in a 325F (170C) oven instead of using the microwave.
Sprinkle on the avocado and pico de gallo, or use guacamole instead of the avocado if you prefer.
Add sour cream if you like, or sliced black olives or any other toppings you fancy.
Some More Hot Content For You
Other Posts You Might Like