Japanese Beef Teriyaki Recipe
This Japanese beef teriyaki recipe is so delicious. It looks good, smells wonderful and tastes even better. Beef teriyaki is a very popular Japanese dish and can be served as a starter or as part of a main course. Serve this before your chicken or fish main course perhaps, and you can even continue the Asian theme by having a Chinese main dish.
What is Teriyaki Sauce?
The teriyaki sauce for this Japanese beef teriyaki recipe can be bought or made fresh, and it is a sweet, thick, dark sauce. Chicken is nice with teriyaki and beef is also good.If you like sweet, sticky sauces you will certainly like this one. It offers a typical flavor and there is nothing else quite like it. I love teriyaki. Next to hoisin (which is Chinese of course) teriyaki is my favorite Asian sauce I think.
The teriyaki element is homemade in this Japanese beef teriyaki recipe, so you can get a feel for preparing it yourself. The red food coloring does improve the look of the finished dish but if you do not have any, or you prefer not to use food coloring in your recipes, you can of course leave it out.

Beef Teriyaki Starter
The sweetness of teriyaki sauce combines nicely with the meaty richness of beef. Honey, ginger, soy sauce and other tasty ingredients add freshness and appeal to this wonderful starter recipe.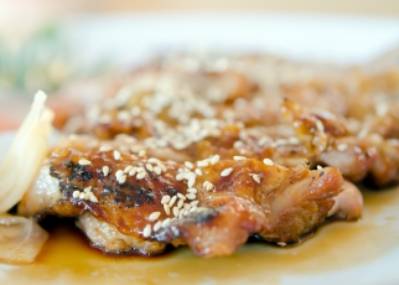 Author:
Victoria Haneveer
Prep time:
Cook time:
Total time:
Ingredients
60 ml (1/4 cup) honey
1 teaspoon ground ginger
120 ml (1/2 cup) water
1 tablespoon cornflour (cornstarch)
3 tablespoons oil
½ kg (1 lb) beef sirloin tip, cut into 5 x 2 x ½ cm (2 x 1 x ⅕ inch) strips
80 ml (1/3 cup) soy sauce
1 teaspoon grated onion
1 clove garlic, minced
Few drops red food coloring
Instructions
Blend the soy sauce, ginger, garlic, onion and honey.
Add the meat and marinate for an hour.
Remove the meat, keeping the marinade, and brown in all over in hot oil in a wok.
Stir a mixture of cornstarch, water and red food coloring into the marinade in a pan.
Bring to the boil and cook for 2 or 3 minutes, stirring all the time.
Add the meat to glaze it, remove and drain on a wire rack.
Insert a toothpick into each meat strip and serve with the sauce. Serve 6 meat strips and a helping of sauce to each person.
Teriyaki sauce is really sweet, sticky and delicious, and it is always nice combined with meat whether you choose chicken, beef or something else. Nothing tells your dinner guests you love them as much as presenting a completely homemade dish, and I do not mean opening a bottle of teriyaki sauce and pouring it over beef, but making your own teriyaki sauce from scratch. That is the way to the diners' hearts. This Japanese beef teriyaki recipe offers a wonderful insight into Japanese cuisine and you will find it simple to put together.
Photo by FreeDigitalPhotos.net
Some More Hot Content For You
Other Posts You Might Like