Sweet and Sour Sesame Chicken Wings
Chicken wings are always a good choice because they are full of flavor and nice to pick up and eat with the fingers. This sweet and sour sesame chicken wings recipe adds an Asian spin to the chicken, offering a wonderful sweet and sour flavor which you will love.
There are different ways to cook chicken wings. You might want to deep fry them with or without a coating, pan fry them, grill them, or even bake them in the oven. The chicken wings in this recipe are flavored and then baked in the oven until they are crispy and perfectly cooked. These sweet and sour sesame chicken wings are unique.
The chicken wings are flavored with garlic and salt, and the sauce is made using soy sauce, brown sugar, pineapple juice and more, so you get equal parts of sweet and sour. Add a few sesame seeds for a nice presentation too.
What to Serve with Sweet and Sour Sesame Chicken Wings
Rice or noodles would be good with these sweet and sour chicken wings, or you might like to serve them on a bed of romaine or iceberg lettuce.
You can also serve some nice steamed or stir-fried veggies on the side, such as snow peas, matchstick-cut carrots, mushrooms and water chestnuts for example. Stir in a little soy sauce and a pinch of 5 spice if you want.
You do not want the side dishes to compete with the chicken wings in terms of flavor, so keep the side dishes simple and you can appreciate the chicken wing flavors even more.

Sweet and Sour Sesame Chicken Wings
These hot and sticky chicken wings are flavored with Chinese ingredients and you will love the perfectly balanced flavor. These are beautiful with noodles or rice, and veggies.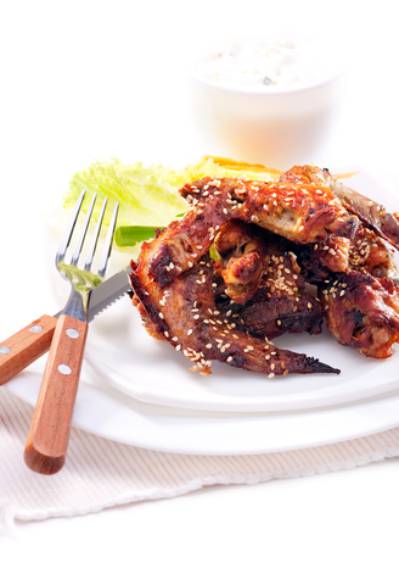 Author:
Victoria Haneveer
Prep time:
Cook time:
Total time:
Ingredients
5 pounds chicken wings
1 tablespoon garlic powder
½ cup cornstarch
2 beaten eggs
Oil, for sauteing
Sesame seeds
Salt and black pepper (optional)
For the Sauce:
1 teaspoon salt
¼ cup ketchup
½ cup brown sugar
¼ cup pineapple juice
3 tablespoons rice vinegar
2 tablespoons soy sauce
Instructions
Preheat the oven to 350 degrees F.
Combine the sauce ingredients and warm it through for 10 minutes, stirring occasionally.
Whisk the garlic powder into the beaten egg.
Dip the chicken wings in the cornstarch to coat evenly, adding a pinch each of salt and pepper if you like.
Dip the coated chicken in beaten egg mixture then brown in a skillet with a little oil.
When browned, transfer the wings into a baking dish.
Pour half of the sauce over the chicken.
Bake for 20 minutes.
Turn the wings every 10 minutes and add more sauce every now and then.
Sprinkle with some sesame seeds and bake for another 5 minutes.
Some More Hot Content For You
Other Posts You Might Like