Bean Salad with Mozzarella Recipe
This bean salad with mozzarella recipe is a very tasty vegetarian appetizer which is perfect for non-carnivores. The salad vegetables taste wonderful with the mixed beans and the cilantro adds a fragrant finish. This is a great starter recipe to have before a Mexican or Tex-Mex meal.
More about Beans
Beans are filling but they are also very nutritious, which is one reason many non-meat-eaters seem to enjoy them. You can often mix and match beans, swapping kidney beans for cannellini beans, or black-eyed peas for chickpeas, as the mood takes you, and you can do the same with this recipe. Chickpeas are suggested but swap those for another kind of rinsed, well-drained canned bean if you prefer.
Use buffalo mozzarella for the best flavor or even a low-fat kind if you are dieting. If you are feeding strict vegetarians or vegans you might wish to get a vegan cheese but that will negatively impact the overall flavor of this bean salad with mozzarella recipe. The vegetables add nutrients as well as freshness and crunch. This recipe is ideal for all seasons and occasions, and it is also something you could take to a potluck supper.

Bean Salad with Mozzarella Recipe
A variety of beans combine with cherry tomatoes, cucumber, mozzarella and Italian dressing, to make this nutritious and delicious salad. The combination of ingredients work perfectly together.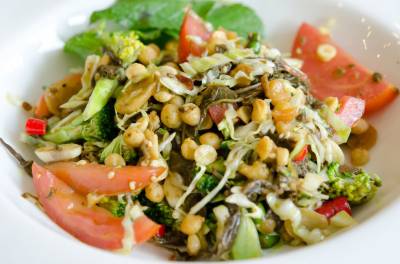 Author:
Victoria Haneveer
Ingredients
220g (7½ oz) can kidney beans, drained
400g (14 oz) can chickpeas (garbanzo beans), drained
4 tablespoons vinaigrette or Italian dressing
125g (4 oz) cherry tomatoes, in quarters
1 red bell pepper, de-seeded and sliced finely
½ cucumber, finely diced
150g (4½ oz) mozzarella, sliced and cubed
2 tablespoons cilantro (fresh coriander), finely chopped
Instructions
Combine the chickpeas, kidney beans, cherry tomatoes, pepper and cucumber.
Add the dressing.
Stir in the cheese and sprinkle with the cilantro.
Bean salad recipes vary widely and you have 2, 3 and 4-bean salads, as well as Mexican bean salad recipes, spicy salads and many more. Some bean salads feature ham or bacon which of course are not suitable for vegetarians. This bean salad with mozzarella recipe holds its own by adding mozzarella and crisp vegetables to the mix, as well as other seasonings to round out the flavor. Serve this as a starter, perhaps with crackers or bread, before any type of main dish, or enjoy it as a snack.
Photo by FreeDigitalPhotos.net
Some More Hot Content For You
Other Posts You Might Like