Pears with Stilton and Curd Cheese Recipe
Doesn't the name of the recipe get your mouth watering already? Pears with Stilton and curd cheese – yum! Pears are often served with cheese because the flavors are so good together and in this recipe, both Stilton cheese and curd cheese are used. The yogurt and nutmeg add color, texture and flavor, and this is one of the best vegetarian starter recipes.
What is Stilton Like?
Stilton is an acquired taste to some people, especially if they are usually only found eating cheddar and the like, but it really is good. Stilton is a British blue cheese and it offers a lovely creaminess and slight salty taste. It's particularly good in this pears with Stilton and curd cheese recipe because of the contrast.
If you can't get it where you are, consider another kind of blue cheese. Danish blue is good but very salty, so bear that in mind if you don't want salty. Gorgonzola is also lovely. Just choose your favorite and it is sure to go nicely with this salad.
This is a dish of contrasts because the pear is sweet, the cheese is creamy and the Stilton is salty, but rather than getting any kind of clash you get the most wonderful harmony. If you are wondering how to serve blue cheese then you might want to make this dish because the flavor really is phenomenal.

Pears and Cheese Starter
Stilton cheese and dessert pears contrast with one another beautifully in this unusual salad, and chives, curd cheese and yogurt also fit into the equation, adding fabulous texture and taste to the dish.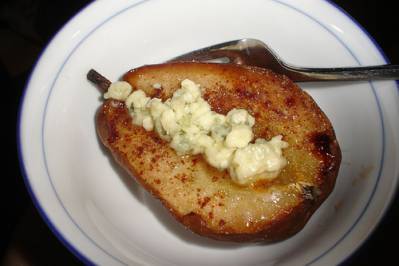 Author:
Victoria Haneveer
Ingredients
150 ml (2/3 cup) natural yogurt
50g (1¾ oz) Stilton cheese
2 ripe dessert pears
Salt and pepper
100g (3½ oz) curd cheese
Pinch of nutmeg (optional)
Shredded lettuce leaves
Instructions
Mash the Stilton with a tablespoon of the yogurt.
Beat the rest of the yogurt into the curd cheese and add the salt and pepper.
Peel, halve and core the dessert pears.
Divide the Stilton mixture between each cavity.
Arrange the lettuce on a serving platter and place the pears, cut side down, on top.
Spoon over the curd cheese mixture and sprinkle with the nutmeg.
Another option is to broil (grill in UK) these for a few minutes to warm up the pears and melt the cheese.
Serve chilled.
What complements blue cheese more than serving it with juicy fruit, and what complements sweet fruit better than a salty, creamy food? That is why the ingredients used to make this dish work so perfectly together. This pears with Stilton and curd cheese recipe could work as a starter recipe or even as a dessert, since you have the sweetness and the savory flavors, and cheese is often served after the meal, but I feel it works best as a starter recipe because it starts the meal off on a high note, and will leave everyone excited to discover what is coming out for the main dish.
Image courtesy of Satanoid, on Flickr.com
Some More Hot Content For You
Other Posts You Might Like