Homemade Pizza on French Bread
Pizza comes frozen or from the pizza delivery place or from your local Italian restaurant. But wait, what about the best pizza? Well that would be the kind you make yourself at home! Honest, it's so quick and easy to make pizza yourself and you don't even have to make the dough. This homemade pizza on French bread will have the kids (and grownups) beating down the kitchen door, it smells so good!
The quickest pizza recipe probably has to be this tortilla pizza but next up you have baguette pizza or French bread pizza, which is French bread, French stick or baguette bread (however you call it) topped with tomato sauce and pizza toppings to make the most amazing appetizer or main dish.
Why Use French Bread as a Pizza Crust
French bread makes a great pizza crust since it is naturally crispy on the outside and soft in the middle. It really is so delicious! Top with your favorite sauce and toppings and you will find just anything goes. Get as inventive as you wish with a homemade pizza on French bread.
In addition to French bread being crispo and tasty, it holds the sauce and toppings really well, so the next time you fancy Italian food but not spaghetti carbonara or traditional pizza, consider this French bread pizza recipe and rustle up something quick, easy and above all… tasty! I like shrimp on mine, or maybe tuna or another kind of seafood. I just like seafood pizza. Oh, and smoked salmon – that is good too!


Homemade Pizza on French Bread
Choose French bread as your pizza base of choice and you can enjoy all the deliciousness of bread along with the flavors of typical Italian toppings. French bread and Italian pizza is for sure a win-win.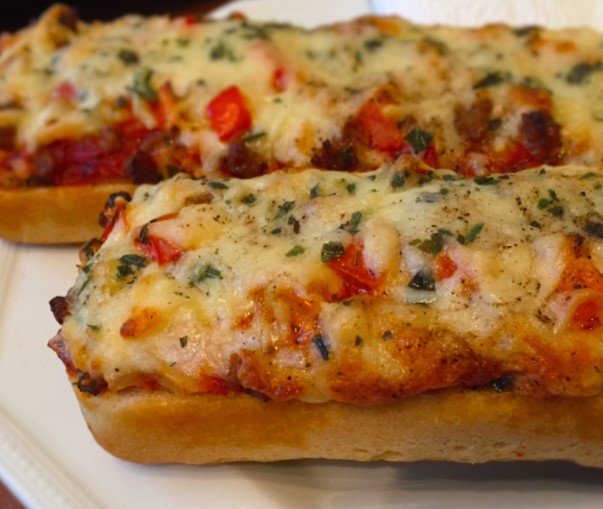 Author:
Victoria Haneveer
Prep time:
Cook time:
Total time:
Ingredients
1 loaf (24" or 60cm) French bread, halved lengthwise
2 cups (500ml) tomato or pizza sauce (any kind)
2 cups (230g) mozzarella cheese
15 slices of pepperoni
Italian seasoning or dried oregano
Optional Ingredients (Chopped)
Bell pepper
Onion
Shrimp
Pineapple
Mushroom
Tuna
Salami
Onion
Instructions
First you need to preheat the oven to 375 degrees F (190 degrees C),.
Next cut the French baguette bread in half and top with the sauce.
Add any of the 'optional ingredients' you like.
Add the mozzarella, pepperoni and Italian seasoning or oregano.
Bake for 12 minutes or until the cheese is melted, then serve.
Some More Hot Content For You
Other Posts You Might Like