Fried Brie with Hot Cranberry Sauce Recipe
Fried Brie with hot cranberry sauce is a traditional starter and with this recipe, you can make it from start to finish in just a few minutes. Brie is a versatile cheese and is just as good served cold in a sandwich as served fried like this. Personally I'm not keen on cold Brie but I can't get enough of this fried Brie with hot cranberry sauce!
What is Brie Cheese?
Brie is a soft cow's milk cheese which is widely available. It's named after Brie, the French region where it originates from. Perhaps you have only had it cold, sliced, perhaps with French bread and grapes, but it is really good in this fried Brie with hot cranberry sauce recipe because it melts nicely.
This lovely starter recipe goes well before any kind of main dish, whether you are looking at roast chicken or beef, some kind of risotto or pasta dish, or even a stew. As long as it's not a cheesy main course this would make a very good first course.
In this fried Brie with hot cranberry recipe, the Brie is fried and then served with a sticky, sweet cranberry sauce, which contrasts beautifully with the cheese, adding a touch of sweetness to contrast with the creaminess of the cheese. Yum, sheer perfection!

Cranberry Fried Brie Starter
Fried brie is popular in restaurants but now you can make your own and you will love how simple this recipe is. The brie is fried until crisp then served with tangy, sweet, gently warmed cranberry sauce.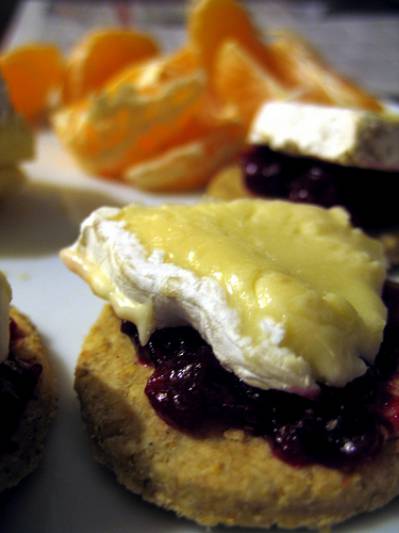 Author:
Victoria Haneveer
Prep time:
Cook time:
Total time:
Ingredients
2 beaten eggs
50g (1.75 oz) all-purpose flour (plain flour), seasoned with salt and pepper
150g (5.25oz) brie cheese
50g (1.75 oz) breadcrumbs
Vegetable oil for deep frying
250g (1/2 lb) cranberry sauce
Salt and pepper
Instructions
Place the flour, breadcrumbs and eggs in 3 small bowls.
Dredge the brie in the flour then dip it in the egg.
Dip it into the breadcrumbs.
Repeat the coatings of egg and breadcrumbs until you have a thick coating.
Heat the oil in a deep fat fryer or saucepan to 180 degrees C or 350 degrees F.
Fry the brie for 3 minutes until golden and crisp.
Remove the brie with a slotted spoon and drain on kitchen paper.
Warm the cranberry sauce in a small pan over a medium heat.
Season with salt and pepper.
Pour the warm cranberry sauce on to a serving platter and place the fried brie on top.
Brie fries beautifully, and serving this wonderful melted cheese with a cranberry sauce just makes it all the more attractive. Try this fried Brie with hot cranberry sauce recipe today. You can buy Brie breadcrumbed and ready to fry but to be honest I don't see the point. Fried brie is easy to prepare. Just make a coating and dip it in, then fry it and serve with the cranberry sauce on the side. If I am going to take the trouble to make such a dish then I will make it from scratch, and that way I can take more pride in it. This is a classic dish with French inspiration. It is lovely before any sort of main course. In the photo the brie is served on top of crackers with the sauce between the two. You might or might not wish to use this serving idea.
Image courtesy of Vidya Crawley, on Flickr.com
Some More Hot Content For You
Other Posts You Might Like