Mediterranean Tapas Platter
If you are looking for inspiration for quick and easy starter recipes, what about making a Mediterranean tapas platter? Tapas are great to nibble on and make a colourful and attractive starter recipe. For the best tapas recipe, choose a couple of different contrasting cheeses, some chorizo or salami, cherry tomatoes and olives. This mixture ensure you get plenty of color and diverse textures and flavors.
Mediterranean Tapas Platter: Tasty Tapas Tips
Choose any kind of olives you like for your Mediterranean tapas platter; black olives, green ones and stuffed ones are all good. Anchovies make nice tapas too, as do pickled onions, nuts, chopped ham and anything else that people can nibble at while enjoying a drink. If you are having a cocktail party and only serving starters instead of a main meal, Spanish style tapas are perfect because they are not too filling and you can offer a variety of different flavors without spending a long time in the kitchen.
You can make a Mediterranean tapas platter if you are catering for a buffet or if you are having a dinner party. Simply lay the Mediterranean tapas platter in the middle of the table for people to help themselves or pass individual bowls around. You can also offer slices of bread and butter or, to keep it authentic, garlic mayonnaise or extra virgin olive oil for dipping the bread.
Another great thing about serving a Mediterranean tapas platter as a starter recipe is that if the supply is dwindling and people still seem hungry, you can easily rustle up more in the kitchen in less than five minutes. Tapas are very popular all over the world although they originated in Spain. If you want to combine an international eating experience with delicious ingredients and a short preparation time, tapas are fantastic.

One of the Most Easy Spanish Starter Recipes
Choose Spanish cuisine if you want to offer an appetizer which is simple and rustic yet full-flavored and satisfying. Everyone loves tapas and a cold tapas plate couldn't be easier to rustle up.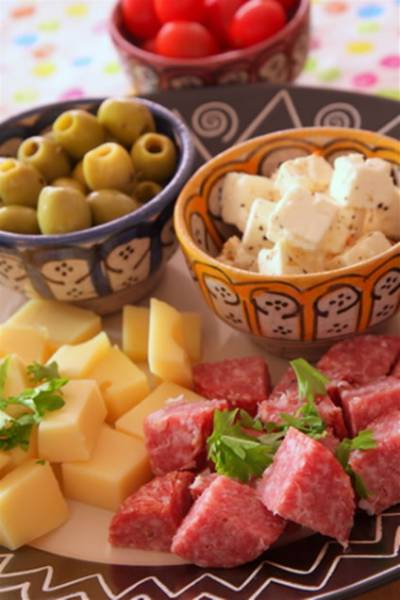 Author:
Victoria Haneveer
Ingredients
2 punnets cherry tomatoes
1 jar green olives
300g (10.5 oz) salami
300g (10.5 oz) Swiss cheese
300g (10.5 oz) feta cheese
Roughly chopped fresh parsley, to garnish
Instructions
Cube the Swiss cheese and feta cheese. Drain the olives and chop the salami. Wash and dry the cherry tomatoes.
Serve everything in separate bowls or altogether on a big serving platter, garnished with fresh parsley. For ease of eating, stick a few cocktail sticks into some of the tapas so people don't have to use their fingers.
This colorful selection of tapas makes a wonderful starter recipe because it takes just a few minutes to prepare. You can be creative when serving tapas – mix and match different flavors, textures and colors and you can't go wrong with this Mediterranean tapas platter. Radishes, matchstick-cut carrots, pineapple chunks, chorizo, cured ham and pickled onions are also nice to add to your tapas platter and people can use cocktail sticks to help themselves to these delicious morsels. Tapas can be left around the room at a cocktail party or buffet and they also make a nice starter before any kind of main course.
Some More Hot Content For You
Other Posts You Might Like