Exact Copycat IHOP Pancakes Recipe
If you love the flavor and texture of IHOP pancakes you are not alone. These delicious, fluffy treats make a wonderful breakfast, teamed with maple syrup or another type of syrup if you are kind of hungry, or eggs, bacon and the whole enchilada if you have a raging appetite! I wanted to make copycat IHOP pancakes so I could prepare them at home.
Perhaps you are in the mood for this authentic IHOP pancakes recipe but you don't really want to get in the car and drive, in which case try the following recipe because the texture and flavor will be just like the IHOP pancakes you know and love.
Copycat IHOP Pancakes – Beautiful Lazy Brunch Idea
Make these copycat IHOP pancakes on a lazy Saturday or Sunday morning for the whole family, and they will all be really impressed, I promise you! Breakfast or brunch… anytime is great for this recipe. Feel free to double or triple this recipe if you are feeding a crowd. You can make as many copycat IHOP pancakes at the same time as your skillet allows. If you only have a small one then either serve some and keep cooking the rest or keep them warm in a warm oven until the whole lot are cooked.
The copycat IHOP pancakes are simple to prepare and best served as soon as they're done. Have the plates, cutlery and syrups on the table, along with perhaps a fruit salad or other dishes. If you are making bacon, eggs and 'the works' you can either make these simultaneously or make them first and keep them warm in the oven, as you prefer.

Exact Copycat IHOP Pancakes Recipe
This secret recipe shows you how to make IHOP pancakes the authentic way. These light, fluffy pancakes are simple to prepare and wonderful with syrup, and perhaps a fruit salad on the side.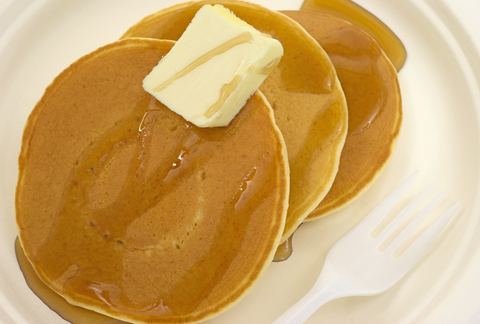 Author:
Victoria Haneveer
Prep time:
Cook time:
Total time:
Ingredients
Nonstick cooking spray, as needed
1 egg
1¼ cups all-purpose flour
¼ teaspoon baking powder
⅛ teaspoon salt
1 teaspoon baking soda
1¼ cups buttermilk
¼ cup white sugar
Instructions
Preheat a skillet over a moderate to high heat, then squirt in a little nonstick cooking spray.
Combine the flour, baking powder and soda, buttermilk, egg, sugar and salt in the blender.
Ladle ⅓ of this mixture into the hot skillet and smooth it out into a 5-inch circle.
If your skillet is big enough you can do several at once, else do the pancakes in batches.
When the edges are golden brown and set, flip the pancakes over.
Cook until golden brown on the other side too.
Either keep the cooked pancakes warm while you cook the rest of the batter, or serve them and continue making the rest.
You will get about 8 pancakes in total.
Some More Hot Content For You
Other Posts You Might Like