Yummy 3 Minute Ice Coffee Recipe
I have always loved ice coffee but find it prohibitively expensive in the coffee shops. There are plenty of ice coffee recipes online but many are too time-consuming to bother with, advising you to brew the coffee for 18 hours with mint leaves or add an array of ingredients which you probably don't already have. That was my inspiration behind this 3 minute ice coffee recipe.
The following recipe is for a basic ice coffee but of course you can jazz it up however you wish, adding syrups, sprinkles and cream on top, a shot of liqueur or whatever tickles your taste buds today.
Flavored Syrups for this 3 Minute Ice Coffee Recipe
I have a selection of syrups here including vanilla, caramel and strawberry and sometimes I will add a splash of one of those to my ice coffee. It just depends on my mood. I'm not into sweet coffee so I often do not bother with syrup.

Of course you can use decaf coffee for our 3 minute ice coffee recipe if you want, or another specialty blend. Some people prefer to brew another type of coffee because they don't like instant granules. That is fine but of course it will take a little longer. Play around with this recipe and with the quantities until you find a nice-tasting beverage which you can rustle up in 3 minutes whenever you fancy a homemade ice coffee.

Basic 3 Minute Ice Coffee Recipe
Save a fortune by making your own ice coffee instead of buying it each time. You will be able to customize this basic recipe to get your preferred flavor, size and result.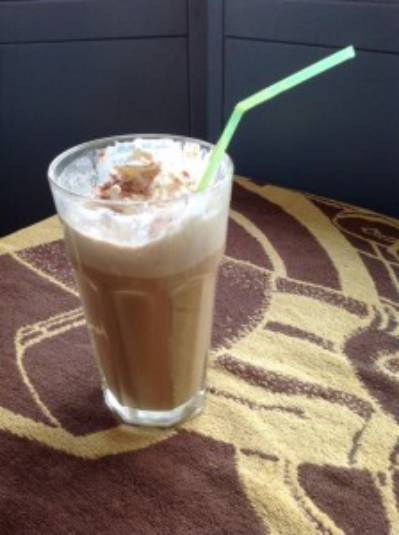 Author:
Victoria Haneveer
Ingredients
1 tablespoon instant coffee granules
Freshly boiled water, as needed
Ice cubes, as needed
Milk, as needed
Sugar (optional)
Half & Half or cream (optional)
Squirty cream (optional)
Sprinkles or cocoa powder or cinnamon powder (optional)
Instructions
Put the sugar (if using) and coffee granules in a mug and pour over the boiling water.
You should fill the mug to near the top.
Stir until the sugar and coffee have dissolved.
Put the ice cubes in a glass (I like to use a 16 oz one but the choice is yours).
Pour the coffee mixture into the glass, over the ice cubes.
Add milk, cream and/or cold water to taste.
Top with squirty cream if you like, and sprinkle over cinnamon or whatever you wish.
Add a straw and enjoy.
Notes
I find that a tablespoon of coffee granules is good to make a 16 oz (one pint) glass of ice coffee.
I like to add milk until the coffee looks the right color, then squirt cream on top.
Sometimes I use Half & Half for a creamier result.
Nutrition Information
Serving size:
1
Calories:
549
Fat:
42g
Saturated fat:
26g
Unsaturated fat:
13g
Trans fat:
0g
Carbohydrates:
29g
Sugar:
17g
Sodium:
244mg
Fiber:
0g
Protein:
16g
Cholesterol:
142mg
Stone Cask Ice Rounds – Silicon Ice Mould
When making a 3 minute ice coffee recipe, the amount of ice you add is up to you. I like to use a giant ice cube ball though because you only need one and it doesn't melt and dilute your coffee!
Feel free to use normal ice cubes if you prefer. Fill the cup between 1/4 and 1/2 full so there is enough ice to cool your coffee right down.
These giant balls are versatile and they are perfect for cooling your coffee down to make ice coffee, but you can also find lots of other uses for them as well. Pop one in your glass of whiskey and it will keep it cool without melting too fast or diluting your drink.
The bigger the ice the longer it lasts, which was the thinking behind these when they were designed, and they work really well, so if you want to cool your drink down without diluting it, without melting too fast, and without having to use those plastic-coated 'reusable' ice cubes, these are a great solution. I love mine and always have some in the freezer. I use them in this 3 minute ice coffee recipe, soft drinks and more. You could even roll one between your wrists when the weather is too hot (trust me, that does cool you down!)
You can take a closer look at giant ice cube balls here:
Stone Cask Ice Rounds – Silicon Ice Mould Makes 2 Large 2.5″ Ice Balls – Slow Melting Ice Balls Look Great While Chilling Your Drinking Without Watering It Down
Some More Hot Content For You
Other Posts You Might Like