How to Poach an Egg like a Pro
Perfect poached eggs are a tasty idea for breakfast, perhaps with buttered toast and some bacon or sausage. They can also be served as a garnish or side dish with meat. You might be wondering how to poach an egg like a pro in the microwave, how long to poach eggs or even how long to poach quail eggs since they are so much smaller.
The most typical way to poach an egg is in a pan of water on the stove, although we are going to look at microwave poaching as well. Bring a pan of water to a boil and add a pinch of sea salt.
Now crack an egg into a cup, then pour it into the water. Repeat with however many eggs you are poaching. They will start to cook right away and you will see them turn from clear to white. If you prefer to use silicon egg cups instead of just dropping the eggs into the water, do that. Now you know how to poach an egg like a pro!
How Long to Poach an Egg
It depends how you want the eggs. Soft-poached eggs take about 2 minutes, medium-poached more like 3 minutes, and firm-poached 4 minutes. These depend whether you are using chilled or room temperature eggs and also on the size of the eggs. Take one out of the pan and push it gently with a teaspoon to test if they are done. If it feels too soft, give it more cooking time. Remove the cooked poached eggs on to paper towels, using a slotted spoon, then serve with toast and some salt and black pepper.
How Long to Poach Quail Eggs and Duck Eggs
Quail eggs are smaller than regular chicken eggs. They take about 1 minute for soft or 2 to 3 minutes for firm. As for duck eggs, these are larger, and will take 3 minutes for soft or 7 minutes for firm.
Use good quality eggs for the best result. Crack an egg on to a plate and look at the yolk. If it's standing up and the egg white is not watery, it's a fresh egg. Keep your eggs at room temperature or refrigerated, but keep them away from fish or anything strong-smelling since the eggshells are porous and can absorb other smells. Some people like to swirl the water then drop the egg into it and poach it because it gives the poached egg a nice shape. The eggs need to cook individually though, so it's fine if you're only poaching one or two, but if you're poaching more than that, don't bother swirling the water.
Some people like to use a different liquid for poaching rather than just plain water. Milk, wine, stock, tomato sauce or bouillon can all be used. Some people add salt and vinegar to the poaching liquid to keep the white firm, but this can make the white a little less delicate in texture. The loose part of the egg white usually detaches in the water anyway. Hotels and restaurants sometimes poach eggs a day before if they are having a lot of people for breakfast. When the yolks are beginning to set but are still soft, remove the eggs to a bowl of ice water and refrigerate overnight. The next day, warm them in hot water.
Microwave Poached Egg Recipe
If you always tend to be in a hurry at breakfast time (and who isn't) you might wonder how to make poached eggs in the microwave. Although making them in a pan only takes a few minutes, microwaving them will shave a little time off your morning rush. Fill a mug with ½ cup of water, then crack an egg in there. It should be submerged under the water. Put a saucer on the mug to cover, then microwave for a minute on high, or until the white is set but the yolk is still soft. Transfer the poached egg to a plate using a slotted spoon.
Silicon Egg Poacher Cups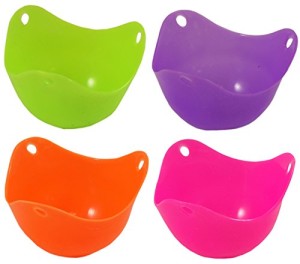 This set of egg poacher cups comes in 4 bright colors, and they are easy to use and clean. Silicon is naturally nonstick, another bonus, so the eggs will slide right out easily. Boil some water then float the cups in there. Crack an egg into each one, cover the pot and cook. This is a very handy method, and helpful if you want to know how to poach an egg like a pro and get wonderful results.
If you like to eat poached eggs regularly or you are looking for a new way to poach them or simply tired of cleaning up dirty pans or metal egg poaching cups, why not consider these? Cook your eggs for about 5 minutes with the lid on the pot and they will be perfect. Once you're done you can either wash the egg cups in hot, soapy water or, better yet, pop them in the dishwasher.
When you swirl the water and poach eggs without cups, you might lose half the egg white as it swirls off the egg, but when you use egg poacher cups, you are sure to keep all the egg in one piece which means they look better and, of course, you end up with more egg.
Silicon Egg Poacher Cups, on Amazon
How to Use an Egg Poacher Pan
Fill the pan with ½ inch (1 ¼ cm) water and bring it to a simmer over a medium heat. Oil the egg poaching cups and warm them in the pan. Now crack an egg into each one, cover the pan, and cook (simmer not boil!) for 2 to 4 minutes, or until done to your liking. Using an egg poaching pan means easy cleanup (just toss everything in the dishwasher) as well as perfectly shaped, perfectly round poached eggs! Yes the ragged ones can look nice and rustic, but sometimes it's nice to have symmetrical ones.
Nonstick Stainless Steel Egg Poacher Pan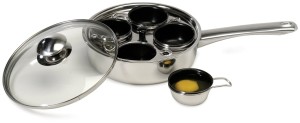 If silicon egg cups are not for you, why not invest in this nonstick stainless steel egg poaching pan? You need to put half an inch (1 ½ cm) water in the pan so it doesn't touch the cups, then bring it to a boil. Now crack an egg into each cup so you are steaming the eggs. Don't use too little water else it will boil dry, and don't use too much because you don't want it touching the cups.
This egg poacher comes with a clear glass lid so you can watch the little beauties turn from raw into perfectly poached. This is a quality set and has some weight in it. The pan measures 7 inches (20cm) across and is 2 inches (5cm) tall. Although some people prefer to wash up by hand, this one should be fine in the dishwasher. I put all my Teflon pans in the dishwasher and the coating is still intact on them. The stay-cool handle is a great feature on this set.
Nonstick Stainless Steel Egg Poacher Pan, on Amazon

Poached Egg Salad
Poached eggs are not only for breakfast. Serve poached eggs with lettuce and other salad ingredients, to make a change from egg salad or hard-boiled eggs, and to contrast both warm and cold elements.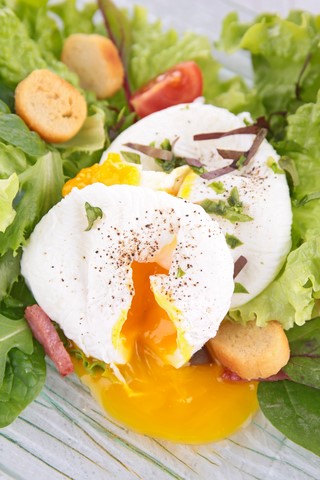 Author:
Victoria Haneveer
Prep time:
Cook time:
Total time:
Ingredients
1 handful salad leaves
1 chopped tomato
Few pieces chorizo or salami (optional)
A few croutons
2 large eggs
Water, as needed
Salt and black pepper, to taste
2 tablespoons salad dressing
Chopped fresh herbs (optional)
Instructions
Bring a pan of water to a boil and add a pinch of salt.
Crack an egg into a cup, then pour it into the water.
Repeat with the second egg.
They will start to cook right away and you will see them turn from clear to white.
Cook for 2 minutes for soft, 3 minutes for medium, or 4 minutes for firm.
While the eggs are cooking, arrange the salad leaves on a plate.
Add the tomato, chorizo or salami if using, and croutons.
Drizzle your favorite kind of salad dressing on top.
Remove the eggs to paper towels to drain, using a slotted spoon.
Arrange them on top of the salad.
Sprinkle over chopped basil, parsley or cilantro, if liked.
Grind over some salt and black pepper, and serve immediately.
Some More Hot Content For You
Other Posts You Might Like