Easy Pan Fried Tuna with a Sesame Crust
This tuna with a sesame crust is a fabulous way to showcase the wonderful flavor of fresh tuna, and you will not believe just how easy this recipe is to make, even if you're new to cooking fresh fish or don't often do it
Even a total novice in the kitchen will be able to pull this recipe off and end up with a very impressive dish.
To make it, you just need some tuna steaks and sesame seeds, both black and white, and then some oil for frying and salt to add extra flavor. In addition to that you will need a big nonstick skillet.
Tips for Cooking Tuna with a Sesame Crust
There is nothing hard about cooking fresh fish, especially not tuna. The only thing to watch out for is not too overcook it. Tuna is lean which means it can dry out if you're not careful, and you don't want to do that to this delicious fish.
Tuna is safe to eat raw (like sashimi or carpaccio) and many cooks like to cook the outside only, leaving the inside raw.
The clean, meaty flavor of the tuna will shine through the simple coating, and you will fall in love with this tuna with a sesame crust for sure.
How to Serve Tuna with a Sesame Crust
Ponzu or chili sauce is very nice with tuna with a sesame crust, or if you would prefer something creamy, how about stirring some wasabi or lemon juice into mayonnaise and offering that on the side instead?
Vegetables such as broccoli, snow peas, mushrooms, bell peppers or onion served on the side will work well, perhaps steamed or roasted, and you might wish to offer egg noodles, fried rice or something like that too.

Tasty Tuna with a Sesame Crust
This recipe calls for tuna, sesame seeds and salt, and just those ingredients are sufficient to make a fabulous recipe which looks incredible and tastes just fabulous!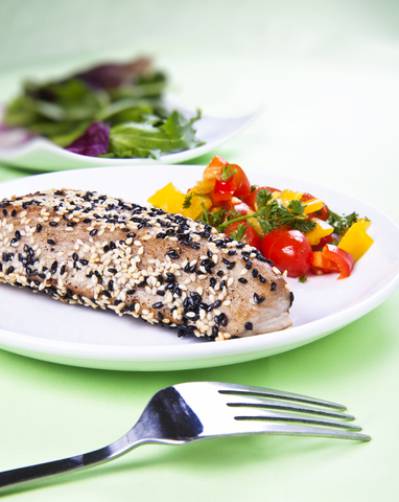 Author:
Victoria Haneveer
Cuisine:
USA (Traditional)
Prep time:
Cook time:
Total time:
Ingredients
4 tuna steaks (about 6 oz or 170g each and ¾ inch thick)
1 tablespoon vegetable oil
¼ teaspoon salt
2 tablespoons black sesame seeds
3 tablespoons white sesame seeds
Instructions
Heat the oil in a skillet over a medium-high heat.
Sprinkle the tuna with salt.
Combine the 2 colors of sesame seeds.
Press the tuna into them to coat.
Pan fry the tuna for 3 minutes per side or done to your liking.
Nutrition Information
Serving size:
¼ of the recipe ...
Calories:
280
If you want to see how the professionals make tuna with a sesame crust, take a look at this recipe and see how Gordon Ramsay does it. I guarantee your  mouth will be watering after watching this seared tuna video!
Some More Hot Content For You
Other Posts You Might Like