Kedgeree Made with Couscous or Rice
This kedgeree recipe is a traditional British breakfast from colonial India, offering a great balance of smoky and spicy flavors. Enjoy this for lunch or dinner. It is also good for breakfast if you fancy something fishy. Yes this dish is usually made with rice but try kedgeree made with couscous if you want something deliciously different.
Shrimp and haddock are combined with the rice or couscous and there are hardboiled eggs and onion in there as well, and some lemon juice which brings out the lovely fishy flavors.
This kedgeree made with couscous recipe is much simpler to make than you might have thought, so why not try this at the weekend and it might become your favorite breakfast?
A lot of people wait until they are in a hotel to sample a kedgeree breakfast for the first time, and then want to recreate it at home. If this sounds like you, then you have the recipe now, and this one is really good. If you want to make a gourmet version of this, simply swap the smoked haddock for smoked salmon.
The Appeal of Classic Kedgeree
The special appeal of this kedgeree made with couscous or rice is in the way the fish and egg combine with the grain, usually rice but either rice couscous here. This gives the dish a comfort food appeal.
Serve this piping hot, or at least very warm, and you will be impressed with the magnificent aromas and wonderful flavors on offer here. Make this for the family and they are sure to be very impressed!

Classic Kedgeree with Rice or Couscous
You will love the fishy flavor of this unusual dish. Kedgeree is a typical British dish but instead of rice why not try using couscous here to give it a different texture?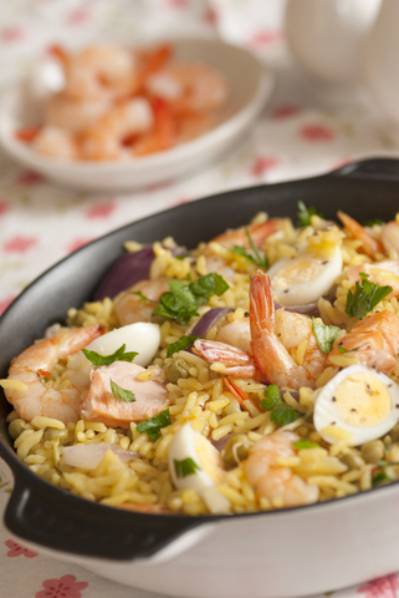 Author:
Victoria Haneveer
Prep time:
Cook time:
Total time:
Ingredients
3½ oz (100g) white rice or couscous
1 sliced onion
Spray oil
Parsley
3½ oz (100g) shrimp
2 smoked haddock fillets, poached in milk and flaked
2 tablespoons lemon juice
2 hardboiled eggs
Instructions
If you are using rice, cook it per the directions on the package.
If couscous, place it in a bowl, cover with boiling water and stand.
Sauté the onion in some spray oil in a pan over a low heat until golden.
Stir in the haddock, parsley and lemon juice.
Heat gently.
Fluff the rice or couscous.
Chop the eggs.
Add the rice or couscous, eggs and shrimp to the pan (add a pinch of curry powder if desired).
Heat through gently.
If it is too dry, add a few tablespoons of natural yogurt.
Season and serve garnished with parsley.
Some More Hot Content For You
Other Posts You Might Like