Singapore Shrimp Noodles
Singapore shrimp noodles are easy to make. Any kind of noodles are lovely for lunch or dinner, and the following recipe shows you how to add a nice typical Singapore flavor to the noodles. You will end up with a complete dish which needs no other accompaniment.
You can swap the shrimp for chicken or tofu if you would rather use one of those, or even combine a few different proteins, and substitute any other vegetables you want if you fancy changing things up a bit.
Added sliced chili is optional but most Singaporeans would want to add it since they love spicy food.
One of the first Singapore meals I ever tried was chili crab, a typical Singapore recipe, and wow was it spicy! I liked it but because I wasn't accustomed to that amount of chili I couldn't really taste the crab, which was a bit disappointing. Everyone's definition of 'spicy' is different too. What is a spicy Singapore shrimp noodles dish for one person might be a mild Singapore shrimp noodles for another.
When making your own dishes you have full complete control over the spices of course, so if you are more of a mild food fan than a fiery spice fan, just add less or leave it out altogether. A lot of the flavor in this dish is from the curry powder and soy sauce combo, and then of course you also have the flavors of the shrimp and the veggies too.
Singapore Shrimp Noodles: Which Noodles to Use
Swap the egg noodles for another kind of noodles if you want, although I almost always use egg noodles because I love the egg flavor they offer. If you happen to have another kind of noodle in the cupboard though, just use though, or even some linguine pasta.
Udon noodles wouldn't work so well in this Singapore shrimp noodles recipe because they are very thick and a bit chewy, but egg noodles or similar thread noodles would do just fine.

Singapore Shrimp Noodles
Singapore noodles are so quick and easy to make. This recipe is fabulous and combines egg noodles with veggies, curry powder and soy sauce for an authentic Singapore flavor.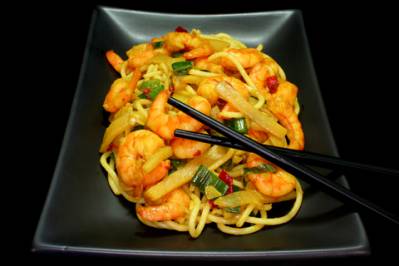 Author:
Victoria Haneveer
Prep time:
Cook time:
Total time:
Ingredients
8 sliced mushrooms
3½ oz (100g) egg noodles
1 sliced onion
1 teaspoon curry powder
1 tablespoon soy sauce
4 shredded Chinese cabbage leaves
2 sliced green onions
3½ oz (100g) medium-size shrimp
Spray oil
Instructions
Cook the noodles and drain well.
Tip them into a bowl, mix in the soy sauce and leave to stand.
Fry the garlic and onion in oil for 5 minutes.
Add the curry powder and cook 1 minute.
Add the remaining vegetables.
Cook 5 minutes.
Add the noodles, soy sauce and shrimp.
Mix well together over a high heat for 3 or 4 minutes until heated through.
Some More Hot Content For You
Other Posts You Might Like