Elegant Squid with Pistachio and Lemon
This recipe is a little unusual, at least more unusual than most stuffed squid recipes. Not only does it look delicious but the tangy chili sauce is the perfect partner for the tender seafood, another great reason to prepare this fantastic dish. Squid with pistachio might be hard to imagine but believe me, it's the stuff of dreams!
The squid is stuffed with a pistachio and lemon infused brown rice which is really filling, and the sauce can be served on the side, like you see in the picture, or you can drizzle it over the plates and arrange the squid slices on top, as you wish. If you want to change this recipe a bit you can use fresh breadcrumbs instead of the rice, since that would also be very nice in a squid with pistachio dish.
As well as the ingredients listed you will need some toothpicks to secure the squid before cooking. Remember to stuff them maximum 2 thirds full so they do not explode during cooking.
Well these squid with pistachio treats do not 'explode' exactly but the filling will leak out and look messy, so stick to the 2 thirds rule for the best results and thread a toothpick through the end (or 2 in a X shape) to keep the squid tube closed.
Squid with Pistachio: A Heady Mixture of Ingredients
To be honest this squid with pistachio is a fusion recipe, borrowing elements from a variety of cuisines. A lot of stuffed squid recipes are Greek or Spanish, since squid is very popular around the Mediterranean, but this one simply picks out a selection of tasty ingredients which harmonize beautifully to offer a sophisticated result. Forget about sticking to one cuisine and making something authentic to one particular region or country, and instead try something brand new, like this squid with pistachio recipe which is very different to a lot of other recipes for stuffed squid but equally tasty and satisfying.

Pistachio Lemon Stuffed Squid
An aromatic recipe featuring a brown rice stuffing for your squid, and a herb-rich flavor. The squid is served with a spicy sauce.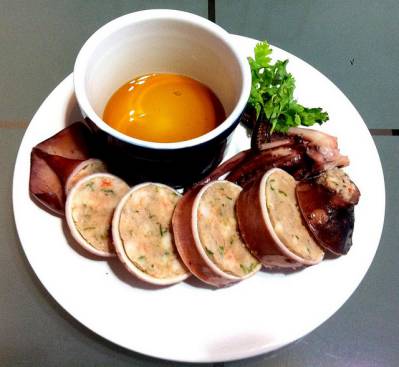 Author:
Victoria Haneveer
Prep time:
Cook time:
Total time:
Ingredients
2 squid tubes, 10 oz each
¾ cup brown rice
Zest of ½ lemon
½ lemon
3 oz toasted pistachios
2 tbsps lemon juice
½ bunch minced parsley
½ bunch minced cilantro
½ bunch minced dill weed
Pinch each salt and pepper
For the Sauce
2 chopped red bell peppers
2 chopped yellow onions
1 sliced red chili pepper
¾ cup plus 2 tbsps water
Salt and black pepper, to taste
Instructions
Cook the rice with the lemon zest.
Drain and cool for 45 minutes.
Mix the rice, pistachios, parsley, salt, pepper, cilantro, dill weed and lemon juice.
Put all the ingredients for the sauce (NOT the ¾ cup water) into a skillet.
Cook over a high heat for 5 minutes then add the ¾ cup water and turn the heat down a bit.
Simmer for 5 minutes.
Pour the sauce into a bowl and puree with hand whisk.
Stuff the squid tubes ⅔ full with the rice stuffing and close the ends by threading with toothpicks.
Put 2 tbsps of oil into the skillet you just made the sauce in (don't rinse it first) and heat over a medium-high heat.
Cook the squid for 5 minutes on each side or until tender.
Slice the stuffed squid into half inch (or slightly wider) pieces and serve with the sauce.
Preparation time: 30 minute(s)
Photo courtesy of
Peiyi, on Flikr
Some More Hot Content For You
Other Posts You Might Like