Greek Stuffed Squid with Parsley and White Wine
Known all over the world, this wonderful Greek take on stuffed squid is a surefire way to anyone's heart. Greek stuffed squid with parsley will win its way to anyone's heart. Want to impress someone? Easy! Just make this!
Who else cooks seafood with as much passion or commitment as the Greeks? Greek stuffed squid with parsley is sure to be a hit. Well, perhaps other Mediterranean countries too, but this recipe is one of the nicest, and all the passion of the Greeks goes into selecting and preparing the ingredients, and the result is something you can call 'gourmet' and is definitely both well-balanced and highly flavorful.
The Greek stuffed squid with parsley recipe is made in 2 stages. You need to make the sauce and then you need to prepare and cook the squid. The sauce is made with garlic, lemon, white wine and tomatoes, which are all bold, vibrant flavors, and typically used in the Mediterranean region. The squid itself is stuffed with rice, green onions and parsley. This is a really impressive dish to cook. If you are someone who is nervous about cooking squid then stop!
Easy but So Yummy
Seriously, Greek stuffed squid with parsley is so easy to do. Squid needs to be cooked for a minute over a very high heat or braised for 45 minutes or more over a very low heat. If you accidentally overcook your squid using the first method you need to turn down the heat and extend the cooking time. Stuffed squid uses the second method because it is too thick to cook that quickly. Save the one minute method for your calamari rings or small squid strips.

Greek Stuffed Squid with Parsley and White Wine
Flavored with white wine and parsley this magnificent dish offers an authentic taste of Greece. Filling and hearty, this Mediterranean seafood meal will transport your imagination to the Greek shores.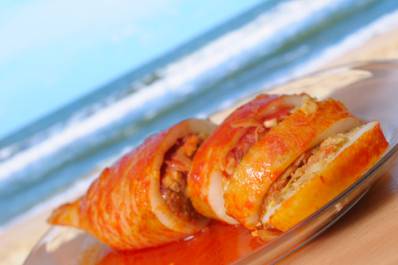 Author:
Victoria Haneveer
Prep time:
Cook time:
Total time:
Ingredients
3 lbs medium squid
¼ cup olive oil
1 bunch green onions
4¼ oz risotto rice
2 tablespoons chopped parsley
¼ cup white wine
Salt and black pepper
For the sauce:
1 finely chopped yellow onion
Juice from half a lemon
Pinch of white sugar
Salt and black pepper
2 finely chopped garlic cloves
1 tablespoon tomato paste diluted in 2 tablespoons water
14 oz can chopped tomatoes
¼ cup olive oil
¼ cup white wine
Instructions
First prepare the sauce.
Saute the onion in olive oil for 3 minutes.
Stir in the garlic and saute for another minute.
Add the white wine and let it evaporate before adding the tomato paste, lemon juice, chopped tomatoes, salt, pepper and white sugar.
Simmer for 20 minutes.
Clean the squid, emptying out the body completely and discarding the contents (if not already done).
Rub salt all over the outside and scrub, to remove the outer membrane completely.
Rinse the cleaned squid in water.
Chop the tentacles and green onions.
Saute the onions in the olive oil for 2 minutes then add the tentacles and cook until all the juices evaporate.
Stir in the parsley, rice, salt and pepper and cook for a minute.
Add the wine and stir until evaporated.
Add ⅓ cup of the sauce you have made to this mixture.
Cook for 5 minutes then stuff the squid with this mixture and secure each tube using a toothpick.
Arrange the stuffed squid in a dish and spread the sauce over them.
Cover with a lid or with aluminum foil and bake at 320 degrees F for an hour or until tender.
Some More Hot Content For You
Other Posts You Might Like