10 Minute Crackslaw
Say you are in a hurry and you want to make some of your favorite recipe but you only have 10 minutes to spare – what can you do? The answer is to make 10 minute crackslaw. Rather than cooking the meat and vegetables separately, you will be saving time by cooking everything together.
I always used to make the dish the regular way, which meant frying the meat, draining it, cooking the vegetables, then adding the meat back in and the seasonings, but since fat is not 'the enemy' when low carb eating you don't even have to drain the meat after browning it, although if you're using high-fat ground meat you might prefer to.
10 Minute Crackslaw Tip: Keep Stirring!
The key to making this Thai vegetarian crackslaw work is to stir, stir and stir! A lot of Chinese recipes are made in the wok and you need to stir constantly, keeping the heat as high as you can without allowing the ingredients to burn. This recipe is similar.
Keep those ingredients moving and they will cook faster. As soon as the beef is browned all over with no pink remaining, serve the crackslaw. Whether the veggies are soft, al dente or a little crunchy it will be good.
This Thai vegetarian crackslaw picture was taken after I'd been cooking for about 10 minutes and you can see I used a package of mixed stir-fry veg instead of shredded cabbage. This adds lots of appetizing color.

A Quick and Easy 10 Minute Crackslaw
Throw all the ingredients in a big pot and stir continuously to make this low carb dinner in just 10 minutes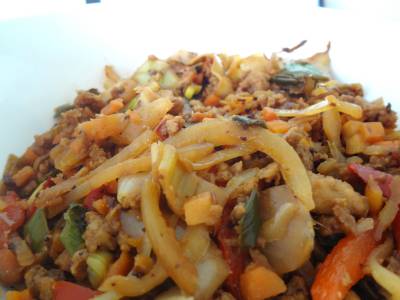 Author:
Victoria Haneveer
Prep time:
Cook time:
Total time:
Ingredients
2 tablespoons soy sauce
2 tablespoons hot sauce
½ teaspoon onion powder
½ teaspoon garlic powder
1 teaspoon apple cider vinegar
2 teaspoons Splenda
2 lbs (900g) lean ground beef
½ teaspoon crushed red pepper
¼ teaspoon salt
¼ teaspoon black pepper
1½ lbs (675g) cabbage or mixed stir-fry veg (carrot, broccoli, bell pepper etc)
1 minced garlic clove
2 tablespoons sesame oil
Instructions
Add all the ingredients to the largest pot you have.
Cook over a medium-high heat for 10 minutes or until the beef is browned (no hint of pink remaining) and the vegetables are al dente. Stir constantly.
As soon as the beef is done this can be served, even if the veg are still a bit crunchy.
Preparation time: 5 minute(s)
Nutrition Information
Calories:
339
Fat:
24g
Carbohydrates:
4.5g
Protein:
23g
Some More Hot Content For You
Other Posts You Might Like