Beef and Carrot Crackslaw
Carrots have more carbs than a lot of other vegetables, so you would not want to make this beef and carrot crackslaw recipe on Atkins Induction, for example, but if you like the sweetness of carrots, then perhaps you will love this recipe, because the carrots are particularly nice with the beef, onions and Chinese seasonings.
This crack slaw recipe is full of flavor. To cut some of the carbs, if you want to do that, swap half the carrots for shredded cabbage, or else you might like to throw in some mushrooms (Chinese mushrooms or just button ones) if you prefer.
Which Order to Cook the Ingredients In
Although you can make this beef and carrot crackslaw in stages, first browning the meat, and then removing it from the pan and browning the carrots and then doing the onions, and so on, I usually just start the carrots first because they always take a long time to do, then add everything else and just keep stirring it.
The beef and vegetables will then cook at about the same rate, and I can add the seasonings as I go, and just check it tastes good at the end, or add more hot sauce or more soy sauce or whatever. If you are low carbing you don't have to worry about draining the fat off the meat after frying it, unless it is VERY fatty.

A little fat adds flavor and a moderate amount adds even more flavor to this beef and carrot crackslaw. Fat is not the enemy, neither in low carb eating nor regular eating. Fat has more calories per gram than protein or carbs but it is essential for good health and it is good for you either eaten in moderation or, like some low carbers, eaten plentifully.
Beef Crack Slaw with Carrot
Carrot, onion and beef team up beautifully in this dish, and the Oriental spices bring it truly to life. Add as much hot sauce as you dare.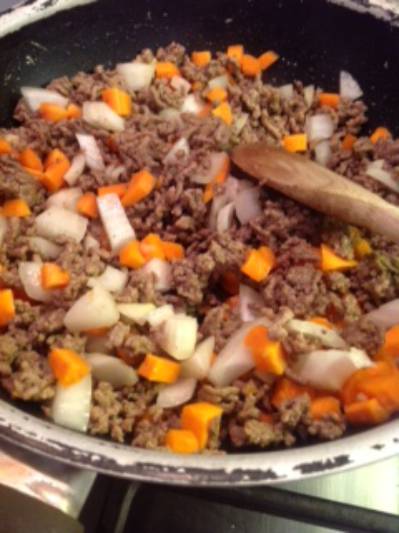 Author:
Victoria Haneveer
Prep time:
Cook time:
Total time:
Ingredients
2 tbsps olive oil
2 tbsps soy sauce
2 tbsps hot sauce
½ tsp garlic powder
1 tsp apple cider vinegar
2 tsps Splenda
2 lbs lean ground beef
½ tsp crushed red pepper
½ finely diced onion
¼ tsp salt
¼ tsp black pepper
1 lb finely diced carrot
1 minced garlic clove
2 tbsps sesame oil
Instructions
Saute the carrot and onion in the olive oil for 5 minutes, then add all the remaining ingredients.
Cook, stirring often, until the beef is no longer pink and the vegetables are tender.
Check and adjust the seasonings if needed.
Nutrition Information
Calories:
300
Carbohydrates:
10g
Some More Hot Content For You
Other Posts You Might Like