British Beef and Ale Pie
This British beef and ale pie is a gorgeous recipe and it makes a filling lunch or evening meal, served with plenty of mashed potatoes, carrots and peas or carrots on the side. We are using shortcrust pastry here which is sturdy rather than flaky, along with braising or stewing steak. The flavors inside come from Worcestershire sauce, tomato, ale or stout and beef stock.
Start with Great Pastry
Although you can make your own shortcrust pastry for this British beef and ale pie if you want to, it is much quicker and easier to use readymade shortcrust pastry, and it tastes about the same too. You will be lining the pie dishes with pastry, adding the prepared filling and then putting pastry lids on to enclose the tasty filling.
You will need six 4-inch (10 cm) wide by 1 1/4 inch (3 cm) deep individual pie dishes to make these pies. Another idea is to make the whole thing in one large tin then you can serve the British beef and ale pie in slices rather than making individual ones.
The filling for our British beef and ale pie is made with stewing beef so it takes a couple of hours to cook to full tenderness, which is why you should plan this recipe in advance. Begin it a couple hours after lunch and it will be ready at dinner time. You can leave the mixture alone to simmer. Just keep the heat as low as possible, and check on it every now and then to ensure it is not sticking to the bottom or drying out.

British Beef and Ale Pie
The tasty pastry crust encloses a rich beef and ale filling which is flavored with Worcestershire sauce, tomato and more. Serve this with mashed potatoes or fries, along with vegetables and brown gravy.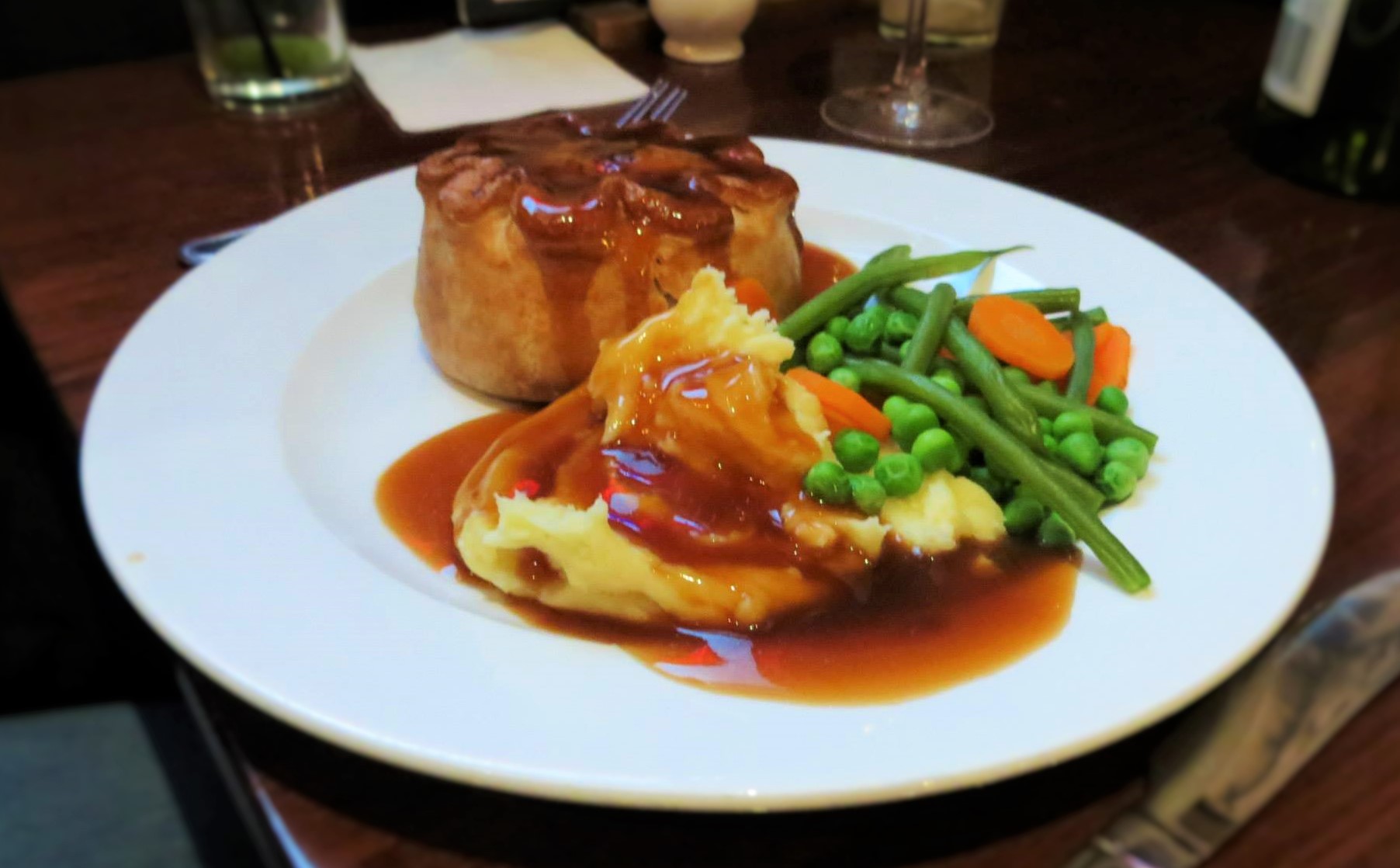 Author:
Victoria Haneveer
Prep time:
Cook time:
Total time:
Ingredients
1 oz (20g) unsalted butter
1 tablespoon vegetable oil
1½ lbs (700g) braising steak, in ¾-inch (2cm) cubes
3 chopped carrots
2 halved, thinly sliced yellow onions
2 tablespoons Worcestershire sauce
2 tablespoons tomato concentrate (tomato paste)
1 oz (25g) all-purpose flour (plain flour)
10½ fl oz (300 ml) hot beef stock
2 teaspoons white sugar
1 pint (500 ml) dark ale, stout, Guinness or dark beer
For the Pastry
1 lb 1 oz (500g) readymade shortcrust pastry
1 beaten egg, for glazing
Instructions
Heat the butter and oil in a casserole dish until the butter melts.
Brown the meat in there in batches, then use a slotted spoon to set it aside.
Add the carrots or onions and saute for 4 minutes.
Add the Worcestershire sauce and tomato concentrate.
Cook for 1 minute.
Now it's time to stir in the flour and cook it for half a minute.
Stir in the stock, sugar and ale, then season with salt and pepper.
Bring the mixture to a boil then turn the heat down.
Simmer for 2 hours or until the meat is tender and the sauce is thick.
Turn off the heat and let the mixture cool completely.
Preheat the oven to 350 degrees F (180 degrees C) and put a baking tray in there.
Roll out half the shortcrust pastry and cut six 5½ inch (14 cm) rounds.
Use these to line the bases of 6 pie dishes.
Spoon in the filling.
Brush some beaten egg over the pastry edges.
Roll out the rest of the pastry and cut out six 4-inch (10 cm) rounds.
Top the pies with these rounds, either pinching the edges to crimp them or making another design on top with your fingers.
Trim any overhanging pastry bits, then brush beaten egg on top of the pies.
Now arrange the pie dishes on the warmed baking tray.
Bake for half an hour or until the pastry is crisp and golden.
Some More Hot Content For You
Other Posts You Might Like