Chili with Baked Potato
Chili is always good, especially when served on a baked potato with some grated cheese on top, and perhaps also some sour cream or guacamole if you like it. Try chili with baked potato for lunch and see how satisfying this dish is.
Chili is versatile enough to be tweaked a lot, so not only can you choose how spicy you want it but you can also choose the ingredients which go in there, such as kidney beans or another kind of bean, garlic, even some grated Mexican chocolate or cocoa powder if you wish.
This recipe shows you how to make a simple chili con carne recipe using ingredients guaranteed to come together seamlessly and offer an abundance of flavor. Feel free to make your own tweaks.
A vegetarian might prefer to use Quorn or TVP rather than the meat, while someone who isn't keen on beans might prefer to leave them out and perhaps add some chopped red bell pepper to the chili mixture instead. The choices is yours.
The Timeless Appeal of Chili with Baked Potato
Nobody ever gets bored of chili with baked potato. Just imagine you eat it once a week. How many weeks will pass before you get tired of this dish? The answer is never, and not only because chili offers such a fabulous flavor but also because there are endless variations to try.
The following chili with baked potato recipe is a simple chili recipe so you can add anything else you want, including other veggies (consider bell peppers, mushrooms, zucchini, carrot or corn kernels) or other spices (a pinch of cayenne perhaps, or some paprika), and you can even try swapping the beef for lamb or even ground chicken for a different result.
If you usually serve grated cheese on your chili, swap it for some sour cream, or swap your usual rice for a baked potato or even some cornbread. Regardless how many times you make the best chili recipe you will never, ever get bored of this wonderful dish!
The following chili with baked potato recipe is the way I usually make my chili, and I always cook it in the crockpot, partly because our stove is too hot and even the lowest setting is a ferocious boil, and second because slow cooking brings all the flavors together and makes the finished chili just wonderful. I like to add a pinch of cocoa powder.

Chili with Baked Potato
This easy chili recipe offers the most fantastic flavor and the consistency of this means it is ideal for ladling over baked potatoes, or you can serve it with rice instead.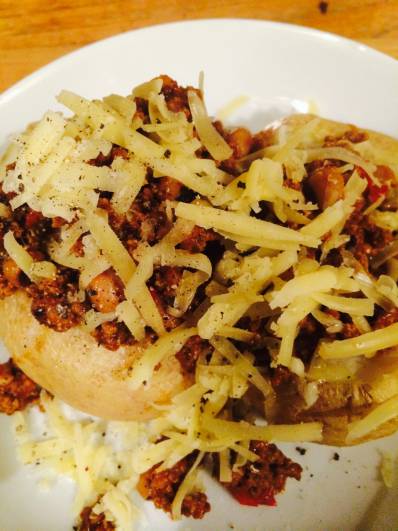 Author:
Victoria Haneveer
Prep time:
Cook time:
Total time:
Ingredients
1 pound (1/2 kilo) ground beef
14 oz (400g) can tomatoes in juice
14 oz (400g) can kidney beans, drained and rinsed
1 cup beef bouillon, tomato juice or tomato pulp (passata)
1 chopped yellow onion
2 minced garlic cloves
¼ teaspoon dried oregano
¼ teaspoon ground cumin
Chili powder, salt and black pepper, to taste
4 baked potatoes or 4 portions cooked rice, to serve
Grated cheese and/or sour cream, to serve (optional)
Instructions
Put the beef in a big pan and cook it until browned, breaking it up with a wooden spoon.
Drain off the fat.
Transfer the beef to your crockpot and stir in the remaining ingredients apart from the potatoes or rice, cheese and sour cream.
Cook on low for 10 hours or on high for 5 hours.
If you don't have a crockpot you can cook the chili on the stove for a couple hours, but stir it often and make sure it doesn't dry out.
Serve over baked potatoes or hot cooked rice.
Add grated cheese and/or sour cream to serve.
Some More Hot Content For You
Other Posts You Might Like