Easy Sukiyaki Recipe
One of my favorite Japanese dishes has to be sukiyaki. This is similar to shabu-shabu, and is a hot pot style dish with thinly sliced beef and vegetables in a sweet, tangy sauce. You can also get vegetarian sukiyaki recipes. This versatile and easy sukiyaki recipe is perfect for cool winter evenings, and you can present or even cook it in a pot in the middle of the dinner table. The ingredients are usually dipped into raw, beaten eggs before being eaten, although this is not so prevalent outside Japan. An easy sukiyaki recipe is usually a winter dish in Japan, often served at year-end parties.
Thinly sliced beef is usually the meat that goes in there, although pork is more popular in some regions of Japan. Tofu, green onions, mushrooms, shirataki or jelly noodles, and Chinese cabbage are popular additions to a traditional sukiyaki recipe.
Different Kinds of Easy Sukiyaki Recipe
There are 2 main styles of sukiyaki – the Eastern Japanese style known as Kanto and the Western Japanese style known as Kansai. In the Kanto style, sake, soy sauce, mirin, sugar and dashi are heated in a pot then the meat goes in, then the other veggies. In the Kansai style, the meat goes in first, then the sauce, and then everything else.
Different Meats to Try
Pork used to be used more than beef in the Northern and Eastern areas of Japan because beef was expensive. Chicken, udon noodles and fish are sometimes found in an easy sukiyaki recipe. In most modern restaurants, beef is the meat of choice. Both varieties are served with raw eggs for dipping, along with steamed rice with some black sesame seeds in it.

Easy Sukiyaki Recipe
Beef, mushrooms, noodles and vegetables are served in a delicious sukiyaki sauce, and this Japanese dish of easy sukiyaki recipe is hearty, warming, healthy and so easy to prepare.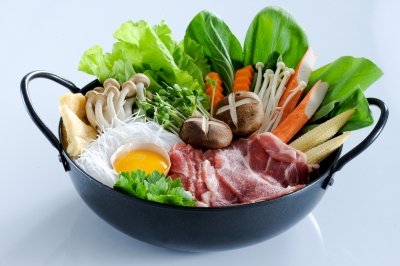 Author:
Victoria Haneveer
Prep time:
Cook time:
Total time:
Ingredients
1 cup (250ml) sukiyaki sauce (or 3½ fl oz sake, 3½ fl oz soy sauce and 1½ oz white sugar)
1 package tofu
1 package shirataki noodles
1 package shiitake mushrooms
1 package sukiyaki beef or sirloin beef
½ Chinese cabbage
Button mushrooms or enoki mushrooms
1 green onion (spring onion)
Optional Ingredients
Carrots
Crab
Baby sweetcorn
Beansprouts
To Serve
4 portions hot, cooked, white rice
4 lightly beaten raw eggs or 4 chopped hard-cooked eggs
Instructions
Chop all the ingredients into bite-sized pieces.
Heat a large pot and grease the base lightly.
Add the beef and fry gently, then add the sukiyaki sauce.
Bring the sauce to a boil then add everything else to the pot.
Simmer the sukiyaki for a few minutes, then serve with hot cooked rice.
It is traditional to serve raw egg for dipping when presenting an easy sukiyaki recipe, but you can serve hard-boiled egg if you prefer.
Photo by: Naito8, at FreeDigitalPhotos.net
Some More Hot Content For You
Other Posts You Might Like