How to Make Hamburgers on the Stove
I love making homemade burgers, partly because they are really easy and partly because they taste so good. You will need some good quality hamburger meat if you want to make good quality burgers, and you can use pork, beef, chicken or a mixed meat. I like to use 80/20 (that is 80% lean, 20% fat) half pork, half beef, for a good juiciness and flavor. I often make hamburgers on the stove when it's cold and I don't want to stand over a grill outside in the rain!
In the photo you can see I am cooking the burgers on a griddle which is like a square pan with ridges on. The ridges allow the fat to drain off the meat but they also make griddle-marks so if you want stripes (or a crisscross hatch) on your burger, get a griddle pan!
I use this pan for all kinds of things actually, like cooking meat, chicken or seafood, or even cooking a banana. The trick is to let it get really, really hot, then add your food. You do not have to add oil or butter to it, just add the meat once it is hot. That's a good tip for making hamburgers on the stove.
Hamburgers on the Stove: Easy and Fun Too
If you're new to making burgers there is nothing to be scared of because it is really easy. The burgers are so simple to put together and although I like to add different ingredients to mine you can just use the ground meat and a touch of salt and pepper if you wish.
You don't have to over-complicate them. Homemade burgers are a very personal experience so add what you want, don't add what you don't want… and enjoy!
Hamburgers on the Stove
Discover how to make juicy, succulent, flavorful hamburgers on the stove. You can personalize these as much or as little as you wish, and add your favorite condiments.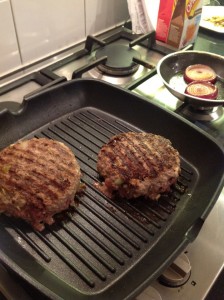 Author:
Victoria Haneveer
Prep time:
Cook time:
Total time:
Ingredients
1 lb ground meat (your choice)
¼ finely chopped onion
1 minced garlic clove
Few drops hot sauce
Salt and black pepper, to taste
2 buns, to serve
2 cheese slices, to serve
Salad, to serve (lettuce leaves, tomato slices, beet slices, pineapple rings, coleslaw, avocado slices, pretty much anything else you fancy)
Ketchup, mayonnaise and/or mustard, to serve
Instructions
Bring the meat to room temperature then combine it with the onion, garlic, hot sauce, salt and pepper using a wooden spoon or your hands.
I like to use my hands, I like to get right in there and "connect" with that yummy meat!
Divide the mixture into 2 patties and lay them side by side on a plate.
Refrigerate them for 30 minutes so they are less likely to fall apart while cooking.
Heat a griddle (ridged pan) for several minutes.
Add the patties and cook on one side for 5 minutes.
Flip and do the other side until done the way you like them, medium rare (my favorite) or otherwise.
Press down on the burger to see how well it is done. If it is soft it is rare, if it's firmish it's medium-rare, if it's firm then it is well done. Cut into the burger to check if you aren't comfortable judging by touch, or use a thermometer. Medium is 140 degrees F (just as a guideline).
I like to cook some red onion slices (see photo) in another pan while the burgers are cooking.
Serve the patties on the buns with salad, cheese and anything else you want to add.
Notes
The most important thing to remember when making your own burgers is the burger is only going to be as good as the meat you choose, so choose a good 80/20 pork/beef mix for optimum results.
Add shredded or grated cheese to the meat mixture if you want a "cheesy" hamburger taste.
If the hamburger mixture is too "loose" you can add breadcrumbs.
If the hamburger mixture is too "firm" you can add egg, water or sauce.
Nutrition Information
Serving size:
2
Calories:
427
Fat:
26g
Saturated fat:
8g
Unsaturated fat:
16g
Trans fat:
0g
Carbohydrates:
38g
Sugar:
8g
Sodium:
569mg
Fiber:
10g
Protein:
15g
Cholesterol:
29mg
Some More Hot Content For You
Other Posts You Might Like