Traditional Recipe for Cornish Pasties
One of the most famous dishes to come from Cornwall, England (well apart from tea and scones of course) is the Cornish pasty. This delicious snack can be enjoyed hot, warm or chilled, and the beef and vegetable filling complements the flaky pastry perfectly. Knowing the traditional recipe for Cornish pasties means you can prepare this delicacy for your family at home.
Traditional Recipe for Cornish Pasties Dough
We are making the pastry for our Cornish pasty (pronounced PAH-stee) recipe as well as preparing the filling. For the pastry you will need flour, butter, egg yolks, salt and baking powder. It helps to have a food processor to prepare the dough, unless you want to do it by hand and use a lot of 'elbow grease'! The dough is then rolled out to your desired thickness and used to make rounds which are then filled with the filling. Then the dough for this traditional recipe for Cornish pasties is complete.
We are keeping things traditional for the filling, using beef, potatoes, onion, rutabaga (swede), salt and black pepper. Don't be tempted to put extras in there. This pie is best when the original recipe is used and don't worry – it will boast plenty of flavor.
When your traditional recipe for Cornish pasties are ready they need to be baked for about 50 minutes or until they are golden brown, then you can let them rest for a few minutes and enjoy them hot, let them cool down some more, or else keep them refrigerated and eat them cold. I like this traditional recipe for Cornish pasties hot with fries and some ketchup on the side, or cold by themselves as a snack.

Traditional Recipe for Cornish Pasties
These delicious treats are perfect served with fries or mashed potatoes, and they are surprisingly easy to make. Traditional Cornish pasties are one of the tastiest treats from Cornwall, England.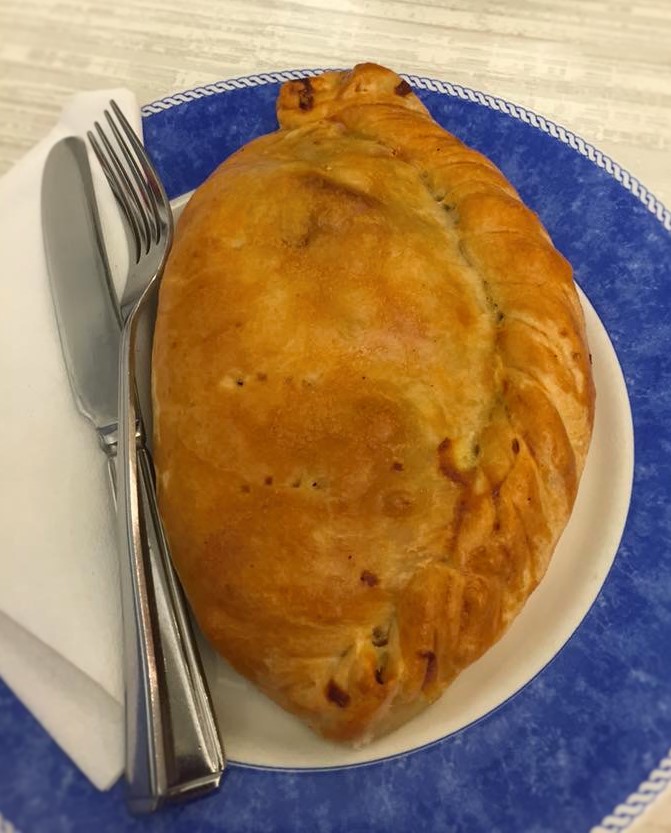 Author:
Victoria Haneveer
Prep time:
Cook time:
Total time:
Ingredients
For the Pastry
1 lb (450g) all-purpose flour (plain flour)
2 teaspoons baking powder
1 teaspoon salt
4½ oz (125g) unsalted butter
2 egg yolks
½ cup (125ml) cold water
For the Filling
1 lb (450g) finely diced, peeled potato
5¼ oz (150g) finely diced yellow onion
5¼ oz (150g) finely diced rutabaga (swede)
1 tablespoon all-purpose flour (plain flour)
1½ oz (40g) butter
10½ oz (300g) chopped rib-eye steak or similar
Salt and black pepper, to taste
1 beaten egg
Instructions
First you need to make the pastry.
Put the flour, salt, butter, egg yolks and baking powder in a food processor.
Process until the mixture looks like crumbs, then add the water slowly until you get a dough.
You might not need all the water.
Wrap the dough in plastic wrap (Clingfilm) and chill it for an hour in the refrigerator.
Preheat the oven to 350 degrees F (180 degrees C).
Roll out the pastry, taking care not to tear it.
Cut out 6 rounds, using a dinner plate as your template.
Now grind some salt and pepper over the vegetables.
Put the beef in a bowl and mix with the flour and some salt and pepper.
Divide the beef mixture between the dough circles, and then the vegetable mixture, leaving a border.
Dot the filling with butter, then brush the egg around the outside of the circles.
Fold the circles up to make half-moon shapes.
Crimp the pastry then brush the whole pasties with beaten egg.
Use a sharp knife or a fork to poke a couple of steam-holes in the center of each pasty.
Bake for 50 minutes or until cooked through and golden brown.
Let them rest for 10 minutes before serving.
Some More Hot Content For You
Other Posts You Might Like