Chicken Biryani with Drumsticks
This tasty Indian dish, chicken biryani with drumsticks, offers an incredible flavor and it is not difficult to prepare. I had my first authentic Indian biryani when I was backpacking around India and the flavor really blew me away.
This recipe originated in the Indian subcontinent or Persia, and it is enjoyed all over Central and South Asia, as well as in the Middle East. Rice, spices and meat and/or vegetables are the main ingredients.
Biryani may be compared to pulao rice but biryani is usually cooked with layered meat and rice and pulao is not layered at all. Chicken biryani with drumsticks is usually a main dish while pulao tends to be more of a side dish.
How Biryani Gets its Flavor
Popular ingredients in an Indian biryani recipe include clarified butter (known as ghee), coriander, cinnamon, cardamon, cloves, ginger, garlic, onions, and nutmeg, but every recipe is different. Saffon can be added to the dish, and some will use turmeric or yellow food coloring to color the rice.
You can serve this chicken biryani with drumsticks with raita, chutney, brinjal (a sour eggplant dish), salad and/or a boiled egg. Some people like to add green peas or finely diced carrot or another vegetable to their biryani while others will serve vegetables or a salad on the side instead.

Chicken Biryani with Drumsticks
Biryani is a heavenly concoction of rice, chicken drumsticks (in this recipe) and spices. Recipes vary from region to region. Serve this tasty Indian rice dish with salad, a boiled egg and perhaps naan bread.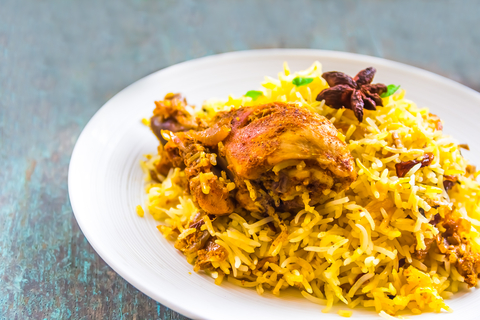 Author:
Victoria Haneveer
Prep time:
Cook time:
Total time:
Ingredients
2 chopped yellow onions
Oil, as needed
1 tablespoon ginger-garlic paste
6 chicken drumsticks
1 tablespoon crushed red pepper
1 teaspoon cumin seeds
Salt, to taste
⅛ teaspoon turmeric
1 teaspoon ground coriander
2 chopped green chilies
¼ bunch cilantro (fresh coriander) leaves
1 cup (250ml) plain yogurt
3 chopped fresh tomatoes
10¾ oz (300g) white basmati rice
A pinch of saffron
Instructions
First heat a splash of oil then sauté the onion in there until golden.
Take out half the onion and reserve to one side.
Add the ginger-garlic paste to the onion still in the pan and cook for a minute.
Next add the chicken, red pepper, cumin, salt, turmeric, coriander, chilies, cilantro, yogurt and tomatoes.
Mix well and cook for 2 minutes.
Cover and cook over a very low flame.
Meanwhile you can boil the rice, following the instructions on the package.
Drain it well.
Spread some of the rice over the chicken mixture in the pan.
Add the onion on top.
Spread the remaining rice on top and sprinkle over the saffron.
Simmer for 10 to 12 minutes or until the chicken is fully cooked.
Serve with raita (a yogurt, mint and cucumber dressing) and perhaps some Indian bread.
More Indian Recipes to Whet Your Appetite
Some More Hot Content For You
Other Posts You Might Like