Chicken Curry Indian Style Recipe
This chicken curry Indian style recipe is just what you need if you want to cheer yourself up on a chilly evening. The chicken and vegetables combine beautifully with the curry spices and the overall effect is fantastic. Serve this with white fluffy rice, naan bread or whatever your heart desires.
In a restaurant you may request your curry mild, medium or spicy, and hope the chef's version of 'mild' for example, is the same as yours! We have all been there, asking for a mild dish, and it arrives and blows your head off. Well, in this chicken curry Indian style recipe, it is up to you to add the spices, so you can choose how spicy (or otherwise) you would like it to be.
Perhaps you are not used to eating curries. If you aren't sure what to expect, then just imagine chicken served in a warm, nice tasting sauce. Make it mild (don't add too much curry powder) and taste it as you go, so if you feel it needs more flavor towards the end you can add some more.
Why Indian Recipes are So Beloved
Indian food is one of the most popular cuisines, and although other cuisines do feature spices, nothing tastes quite like true Indian food. And no, Indian food is not just about 'curries' and the like. There are plenty of wonderful dishes to choose from, ranging from mild and simple to spicy and complex. This chicken curry Indian style recipe can be made as spicy or mild as you wish.
Whether you are cooking in the manner of many Indians, making a vegetarian dish (a lot of Indians are non-carnivores) or using fish, seafood, poultry and meat in your dish, the typical Indian flavorings will set off the flavor of the whole meal and you will find such recipes to be superbly well balanced and full of amazing flavor.

Chicken Curry Indian Style Recipe
This delicious chicken curry recipe is typically Indian, featuring spices in the form of curry powder, paprika, cinnamon and bay leaf. It offers plenty of flavor, as well as a slight heat.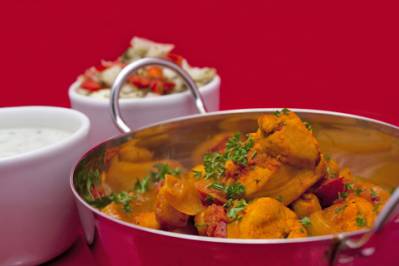 Author:
Victoria Haneveer
Prep time:
Cook time:
Total time:
Ingredients
2 skinless, boneless chicken breast halves in bite-size pieces
3 tablespoons olive oil
1 chopped onion
1 bay leaf
3 tablespoons curry powder
1 teaspoon ground cinnamon
1 teaspoon paprika
1 tablespoon tomato paste
1 cup plain yogurt
½ teaspoon grated fresh ginger root
½ teaspoon white sugar
2 minced garlic cloves
¾ cup (185ml) coconut milk
Juice of ½ lemon
½ teaspoon cayenne pepper
Salt, to taste
Chopped cilantro (fresh coriander) to garnish
Instructions
Heat the olive oil in a skillet over a medium heat.
Saute the onion until it is lightly browned.
Stir in the garlic, curry powder, paprika, bay leaf, cinnamon, ginger, sugar and salt. Keep stirring for a couple of minutes.
Add the chicken, tomato paste, coconut milk and yogurt.
Bring the curry to a boil, then turn down the heat and simmer for 25 minutes.
Discard the bay leaf and stir in the lemon juice and cayenne pepper.
Simmer the curry for 5 minutes more before serving, garnished with cilantro, over rice.
Notes
If you want less heat, reduce the amount of cayenne pepper (and perhaps the curry powder too). Just keep tasting as you go and add a little at a time!
Some More Hot Content For You
Other Posts You Might Like