Chicken Fajitas Recipe
Here in this excellent chicken fajitas recipe, we are pairing spiced chicken with delicious veggies, soft tortillas and whichever condiments you want to add. It makes a lovely dinner for any occasion. Although a lot of people assume fajitas are Mexican they are actually Tex-Mex.
The word 'fajita' refers to barbequed meat which is served on a tortilla. Onions and bell peppers usually feature in these recipes, along with lettuce, sour cream, salsa or pico de gallo, tomato, and/or guacamole. Skirt steak is the original meat used to make a chicken fajitas recipe, and this tough cut of beef which is amazing when slow cooked has soared in price in recent years, but if you spot some on sale grab it, because this recipe is too good not to make.
Beef was frequently butchered to feed cattle hands during the cattle roundups in Texas ranchlands in the 1930s and the head, entrails and trimmings of the beef was giving to Mexican cowboys as part of their payment. Each carcass does not yield a lot of skirt. This cut was not sold commercially either, so you can see how fajitas would be unknown outside of Mexican cowboys and their families, along with butchers and their families.

A Restaurant Chicken Fajitas Recipe Secret
In a restaurant, a chicken fajitas recipe is brought to the table on a sizzling platter, made to sizzle (sorry to disillusion you) by adding a chunk of butter to the very hot metal platter, but of course you don't need to do this at home (well, unless you want to!) If you want to make amazing chicken fajitas, follow our recipe and I promise you will love the flavor.

Chicken Fajitas Recipe
Fajitas are a Tex-Mex dish that combie succulent meat with tender veggies, tortillas and condiments means they're simple to prepare. We use chicken breast and tasty spices for traditional flavor.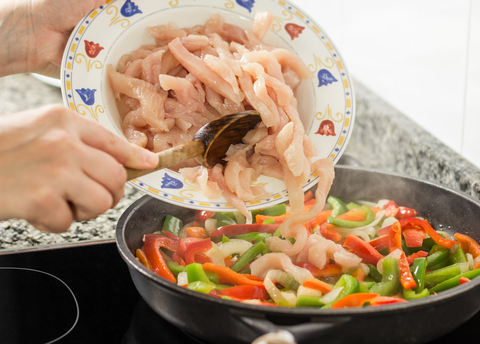 Author:
Victoria Haneveer
Prep time:
Cook time:
Total time:
Ingredients
1½ lbs (680g) chicken breast (no bones or skin)
2 red bell peppers
½ teaspoon cayenne pepper
1 teaspoon chili powder
½ teaspoon black pepper
1 teaspoon smoked paprika
1 yellow bell pepper
1 teaspoon salt
1 teaspoon onion powder
1 yellow onion
1 teaspoon garlic powder
1 green bell pepper
½ teaspoon cumin
Cooking spray, as needed
1 package warmed flour tortillas, to serve
Sour cream, shredded cheese and salsa, to serve
Instructions
Blend the onion and garlic powders with the salt, pepper, chili, cayenne, paprika and cumin.
Rinse the chicken and pat it dry, then arrange it on a pan and spray with cooking oil.
Rub in the spice rub.
Let it sit for 15 minutes to absorb the flavors.
Preheat the barbeque.
Cut the onion and bell peppers into ¼ inch thick strips.
Heat a skillet over a medium to high heat and add a tablespoon of oil.
Add the vegetables with a pinch each of salt and pepper.
Cook for 20 minutes or until tender.
Cook the chicken on the barbecue for 6 minutes.
Flip it over.
Cook for another 6 minutes or until the internal temperature is 165 degrees F (70 degrees C).
Let it sit for 5 minutes on a cutting board, then cut it into strips.
If preferred, cook the chicken on the stove until no pink remains in the middle.
Serve the chicken and vegetables with warmed flour tortillas.
Offer shredded cheese, sour cream and salsa on the side.
Some More Hot Content For You
Other Posts You Might Like