Chicken Livers Middle Eastern Style
Chicken is one of the most popular meats worldwide, although many of us will gladly buy the breast or drumsticks but be hesitant about the livers – enter chicken livers Middle Eastern style. Once you know this recipe you will want to make it over and over!
Once you try chicken livers though, you are sure to change your mind, because the flavor and texture are both very enjoyable, and these livers are really versatile too – a Middle Eastern flavor works very nicely, but there are plenty of other cuisines using these livers, each adding their own flavors and using their own take on flavors to complement the distinctive liver taste.
Chicken Livers Middle Eastern: Deliciously Simple
We have kept the following chicken livers Middle Eastern recipe deliberately straightforward, because it will be the first time some of you have cooked chicken livers, and we just want to show you how easy they are to prepare. In this recipe some vegetables are sauteed in a pan, then the livers and seasonings go in. Another few minutes and the dish is ready to serve, perhaps with rice or potatoes. How easy is that?

Other Chicken Liver Ideas
Try sauteing chicken livers with potatoes, onions, bell peppers and mushrooms to make a nice, comforting hash. Something else to try is threading them raw on to skewers with bay leaves then grilling them until firm. A little salt and black pepper would be the only seasonings needed for that. I still prefer this chicken livers Middle Eastern style but go ahead and make whatever you wish.
Try pureeing cooked livers with a little olive oil and some herbs and spices (any you want) to make a tasty dip for melba toast. Chopped cooked livers can always go into a bowl of homemade chicken noodle soup, risotto or a pasta dish. Something else which is very appealing about these nutritious, tasty livers is their economical price!

Chicken Livers Middle Eastern Style
This basic chicken liver recipe takes mere minutes to make but the flavor is really impressive. Chicken livers pair with vegetables and Middle Eastern spices to make this hearty, tasty entree.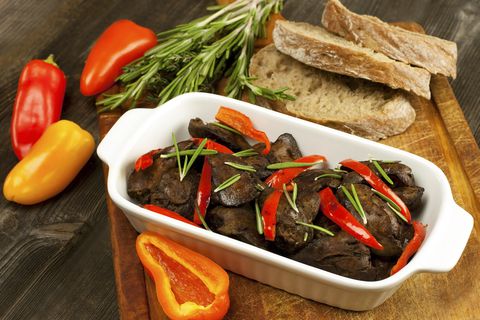 Author:
Victoria Haneveer
Prep time:
Cook time:
Total time:
Ingredients
1 lb trimmed, chopped chicken livers
2 seeded, thinly sliced bell peppers (one yellow, one red)
1 tablespoon olive oil
1 sliced yellow onion
2 minced garlic cloves
1 teaspoon sumac
1 teaspoon allspice
1 teaspoon soy sauce
Fresh herbs for garnish (optional)
Instructions
Heat the oil in a skillet over a moderate heat.
Add the bell peppers, garlic and onion.
Cook for 5 minutes, stirring often, until the vegetables start to soften.
Add the liver to the skillet, and the allspice, sumac and soy sauce.
Cook, stirring, for 10 minutes or until the liver is cooked through.
Serve garnished with fresh herbs if you like.
Some More Hot Content For You
Other Posts You Might Like