Marsala Chicken with Asparagus
Marsala chicken is a tasty Italian dish which you can find not only in the best Italian restaurants but also in your very own kitchen if you choose to follow this marsala chicken with asparagus recipe.
This marsala chicken with asparagus dish is made with chicken thighs which offer more flavor than breast, and are also juicier and more succulent. Chicken thighs are harder to overcook and dry out than chicken breast. Leek, fennel and asparagus make up the vegetable content of the dish.
As well as the chicken and veggies, this Italian Marsala chicken recipe features lemon juice, Marsala wine and parsley, to bring out all the delicious flavors we expect from such a dish.
This marsala chicken with asparagus recipe uses spray oil to fry the chicken but you can use olive oil if you prefer. I often use spray oil to keep down the fat content but I love the flavor of olive oil so you might wish to use that instead for the Mediterranean flavor which suits this dish.
How to Serve Marsala Chicken with Asparagus
This is very good served with either mashed potatoes or rice, but if you want to go slightly non-traditional you might wish to serve egg noodles with it or even couscous.
This marsala chicken with asparagus makes a lovely meal for a special occasion because the Marsala wine offers a gourmet touch. You might also like to serve an Italian dessert afterwards, either something rich like tiramisu or something lighter such as strawberry mousse.

Marsala Chicken with Asparagus
Marsala wine and chicken are showcased in this wonderful recipe, while fennel and asparagus are also added to the mix for aromatic flavor and crunch. This is an unusual dish.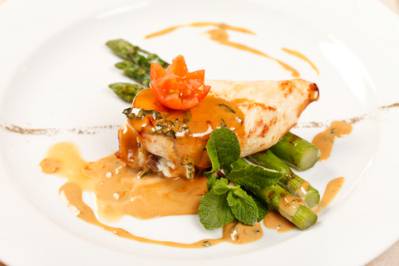 Author:
Victoria Haneveer
Prep time:
Cook time:
Total time:
Ingredients
4 skinned chicken thighs
1 tablespoon all-purpose flour
1 chopped leek
½ teaspoon chopped fresh parsley
1½ oz (50 ml) Marsala wine
½ pint (250 ml) chicken stock
1 chopped bulb fennel
1 trimmed bunch asparagus
Juice of ½ lemon
Spray oil
1 lightly beaten egg
Salt and black pepper
Fresh parsley and lemon zest for garnish
Instructions
Dust the chicken with flour.
Fry in spray oil until golden all over.
Remove and set aside.
Pour in the Marsala wine.
Bubble until reduced by half.
Pour in the stock.
Add leeks, parsley, chicken and fennel.
Cover and simmer over a low heat 10-15 minutes.
Add asparagus in final 2 minutes.
Using a slotted spoon, remove the chicken and veg.
In a small bowl mix about ½ the egg with the lemon juice.
Add about 2 tablespoons of the hot cooking liquid slowly, stirring well.
Slowly add this mixture to the pan, mixing it in.
Return the chicken and veg to the pan and gently warm through taking care not to scramble it.
Garnish and serve.
Some More Hot Content For You
Other Posts You Might Like