Best Braised Lamb Shanks in Red Wine
Lamb shanks are a wonderful thing to serve on a cold day, so as fall arrives and winter rolls in, stock up on these meaty treats and you can braise them to make the most delicious meals. Braising means slow-cooking in liquid, and you can choose from beer, wine or other liquids. There is plenty of meat on a lamb shank and the flavor is phenomenal. I especially love this braised lamb shanks in red wine recipe because the flavors are so amazing.
So Much Appeal in this Dish
Lamb shanks smell incredible while they cook and the flavor will drive you half-crazy with anticipation! The following braised lamb shanks in red wine recipe is easy to make and the ingredients are easy to find. The lamb is browned then cooked with onion, carrots and celery, garlic, bay leaves, peppercorns, and red wine.
Use a casserole dish on the stove and in the oven, or else use a heavy pot on the stove and transfer the mixture into an ovenproof casserole to bake. It just depends what you have to hand.
Braised lamb shanks in red wine is excellent served with mashed potatoes and this recipe makes 4 portions, but you can always double it if you are feeding a crowd. Once you have experienced the amazing flavor of this braised lamb in red wine recipe you will certainly want to make it again.
Braised Lamb Shanks in Red Wine – Quick and Easy to Prepare
Braised lamb shanks in red wine is a dish which takes about 3 hours to make, including cooking time, so ensure you start it in plenty of time so it is ready at dinner time. Use a bottle of dry red wine to make this, a regular size bottle (25 ounces, or 750 ml).
The flavor of the wine will be in the finished braised lamb shanks in red wine dish, so use something you would drink. You should always use reasonable quality wine when cooking, especially when the wine is going to be very evident in the finished flavor. Something labeled 'cooking wine' is going to cheapen the flavor of the finished dish by adding a mediocre taste to it, and that is never something you should allow if you want to make the most delicious meals. If you want to compare another of our lamb shanks recipes – garlic herb lamb shanks – take a look so you can see which you prefer.

Best Red Wine Braised Lamb Shanks Recipe
This rich and hearty dish melts in the mouth. The flavors are excellent and the meat, vegetables and red wine combine with garlic, bay leaves and pepper, to boast an incredible flavor in every mouthful.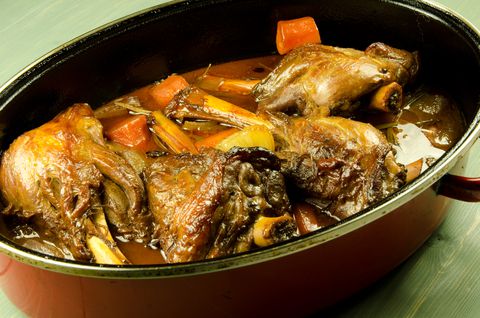 Author:
Victoria Haneveer
Prep time:
Cook time:
Total time:
Ingredients
4 lamb shanks, about 1 lb (450g) each
2 tablespoons extra-virgin olive oil
Salt and black pepper, to taste
3 bay leaves
1 bottle dry red wine
1 cup (235 ml) water
12 peppercorns
5 peeled garlic cloves
4 celery ribs, in ¼ inch slices
4 carrots, in ¼ inch slices
1 roughly chopped onion
Instructions
Preheat the oven to 325 degrees F (160 degrees C).
Heat the oil in a large, heavy, ovenproof pot or stove-proof dish.
Use salt and black pepper to season the meat, then brown for about 4 minutes per side.
Add the garlic, carrots, onion and celery to the pot, then pour in the red wine and boil for 3 minutes.
Add the water and get the mixture to a simmer.
Add the peppercorns and bay leaves, then cover the pot tightly.
Braise in the oven for 1 hour and 45 minutes, or until the lamb shanks are very tender.
Turn them once, halfway through.
Put the shanks in a warmed serving dish.
Strain the braising liquid into a pan, using a wooden spoon to press on the solids.
Boil this liquid for 20 minutes over a high heat or until it reduces to 1½ cups (350 ml).
Season with salt and pepper and pour about a third of it over the meat.
Keep the rest of the sauce warm.
Cover the meat with foil and warm it up for about 10 minutes in the oven, then serve with the rest of the sauce.
Notes
You can refrigerate the braised lamb shanks in their sauce overnight if you like, then just cover and reheat in a 350 degrees F (190 degrees C) oven for half an hour or until warm.
Another Tempting Braised Lamb Shanks Recipe to Try
Some More Hot Content For You
Other Posts You Might Like