Lebanese Lamb Meatballs
I love this Lebanese lamb meatballs recipe. I've only made the meatballs once so far but it's something I'm definitely going to make again!
These Lebanese lamb meatballs boast plenty of herbs in the form of parsley and mint. You might be surprised at the amount of herbs in these meatballs but, believe me, the combination works really well.
Ground lamb is something I don't use that often, just because the only place I can get it where I live is the Cash and Carry and that's not somewhere I go much, but when I do use it I like to make something special, perhaps some comfort food like shepherd's pie, or else something Greek or Middle Eastern like this Lebanese lamb meatballs dish.
Mouthwatering Middle Eastern Cuisine
Middle Eastern dishes with lamb work especially well because fresh herbs and spices, which feature in a lot of the recipes from the region, work so nicely with the flavor of the lamb.
Yes lamb has a lot of flavor by itself but add some fresh herbs and throw in some carefully selected fragrant spices and – wow! You will just love the flavor of the dish.
How to Serve Lebanese Lamb Meatballs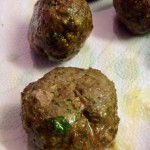 The choice is yours. You might want to serve these on crisp lettuce leaves like iceberg. I like to serve them with pita bread, feta cheese, hummus and salad.
The Lebanese lamb meatballs themselves are very juicy because of the fat content in the lamb so if you prefer not to serve a sauce or dressing that's up to you, although I find the thick texture of hummus goes really well with the Middle Eastern flavors in the meatballs.
You  might like to make the meatballs larger or smaller than the recipe suggests and I made them slightly bigger so I ended up with 13 total. The cooking time was the same. I cut the 13th one in half to check for doneness and it was perfect, so my husband and I had 3 each and I have 6 left in the refrigerator (maybe lunch today!)
How to Make Lebanese Lamb Meatballs
The first thing to do is warm up the oven because you will be ready to bake these as soon as it's warm enough in there. Put your onion and fresh herbs in the food processor and whiz until smooth, then just throw in all the other ingredients and process until smooth.
Once you've combined all the ingredients you just need to shape the Lebanese lamb meatballs (this is easier with wet hands) and arrange them on a greased baking sheet and then just cook them while you prepare your side dishes. This recipe really couldn't be easier!
If you don't have a food processor you can still make them but the texture will be more chunky, more rustic. Feel free to adapt the recipe, switching the lamb for beef if you prefer, or adding some chili or cayenne to spice them up further.

Lebanese Lamb Meatballs
These meatballs are really succulent and flavorful. The herbs make them aromatic and they are wonderful served with pita bread, hummus and perhaps some salad.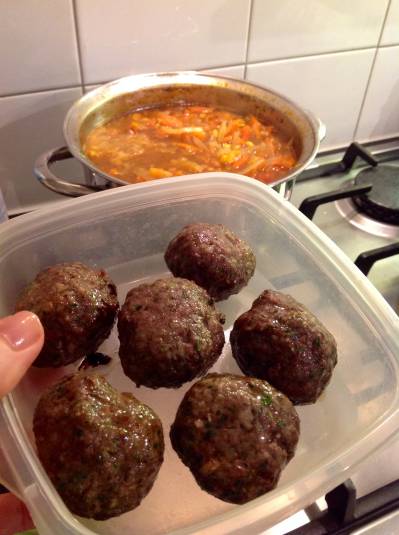 Author:
Victoria Haneveer
Prep time:
Cook time:
Total time:
Ingredients
1 lb (450g) ground lamb
1½ oz (40g) parsley
10 fresh mint leaves
1 teaspoon salt
1 oz (28g) bread, crust removed
4 oz (100g) chopped onions
½ teaspoon ground cinnamon
½ teaspoon ground allspice
¼ teaspoon ground black pepper
Instructions
Mix the onion, mint and parsley in a food processor for 30 seconds or until smooth.
Add the rest of the ingredients and blend until well mixed.
Divide the mixture into 24 balls using wet hands.
Arrange them on a greased baking sheet.
Bake for 25 minutes at 350 degrees F (175 degrees C) or until browned and cooked through.
Drain on paper towels.
You can serve these hot or cold.
Nutrition Information
Serving size:
¼ of the Recipe
Calories:
375
In case you're wondering what that pot is in the background, it's this:
http://victoriahaneveer.com/100-calorie-vegetable-soup
If you would like to see another idea for lamb cooked in a Middle Eastern style, you might enjoy this video which shows you how to make a lamb and chickpea dish in the pressure cooker.
Some More Hot Content For You
Other Posts You Might Like