British Bangers and Mash Recipe
What is bangers and mash, you might be wondering, and how do you make a British bangers and mash recipe? Well, one of the most popular examples of British comfort food, bangers and mash is a dish of bangers (sausages) with mash (mashed potatoes). It is usually served with thick brown onion gravy drizzled over the top.
I like to use plenty of onions in this British bangers and mash recipe or even forgo the sauteed onions and make a delicious onion gravy. You can use any gravy you want, either making it the lazy way with gravy granules or, if you prefer, making your own from scratch.
What Kind of Sausages for a British Bangers and Mash Recipe?
Choose big, fat sausages for making a British bangers and mash recipe. It is not a recipe for chipolatas or dainty little cocktail sausages. Although you can use pork sausages, beef ones are really good here, or you might like to try venison sausages to take this dish a little more upmarket; if so, add some minced garlic to the mashed potato.
Do you want to serve something with this British bangers and mash recipe? Consider broccoli, green beans or another green vegetable to round out the meal. Carrots would also work here.
For the drink, what about a cold apple cider or glass of beer? A light, fruity red wine (very lightly chilled) would also work if you are serving this British bangers and mash recipe and you want some wine. This makes an excellent weekday recipe for the whole family. It serves 8 so you can halve the recipe unless your family is huge or you are having friends over too!
British Bangers and Mash Recipe
Tasty fat sausages are baked with gravy and homemade potatoes to make this wonderful British dish. The traditional flavors are so good and this makes perfect comfort food if you want to treat your belly.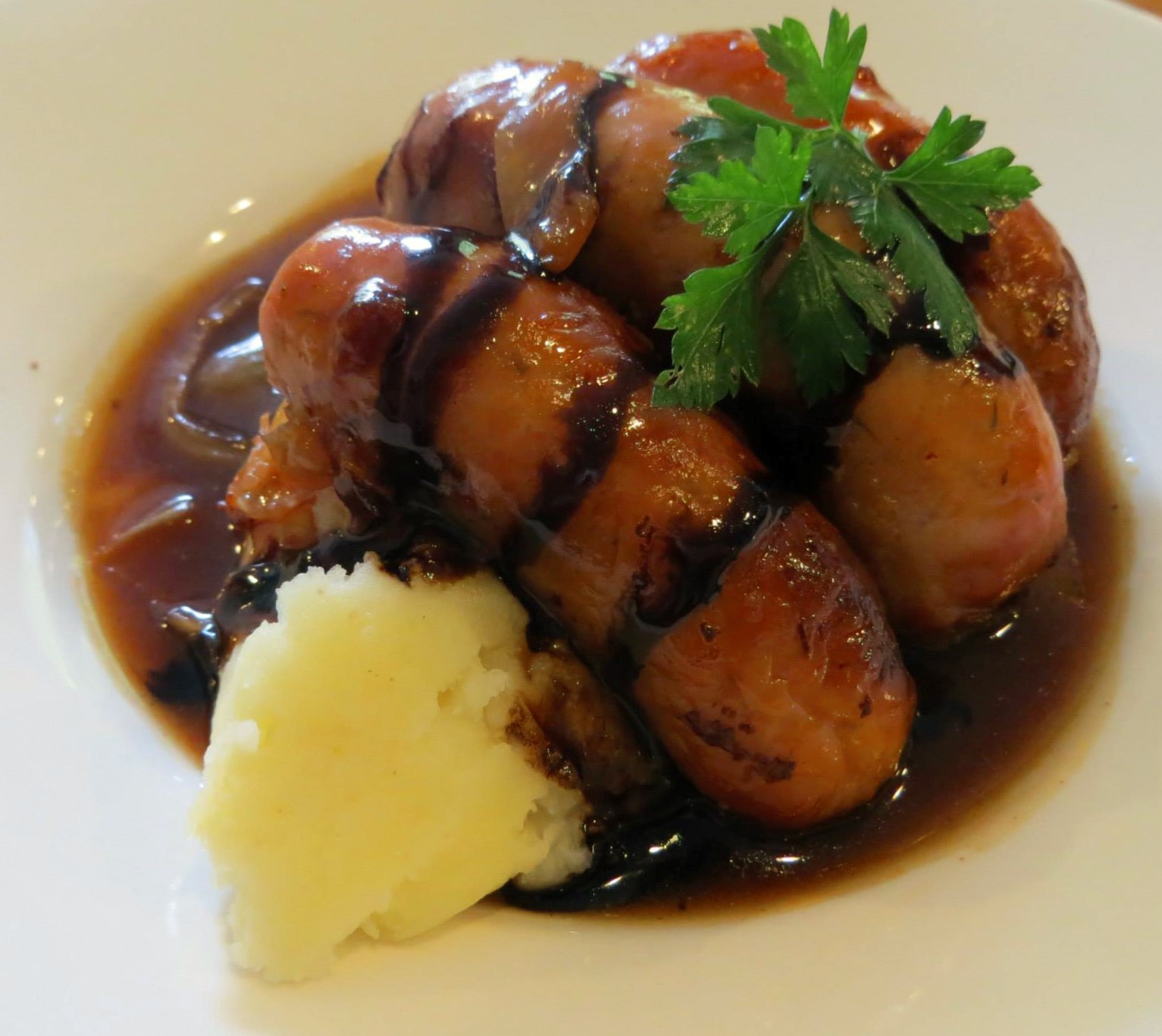 Author:
Victoria Haneveer
Prep time:
Cook time:
Total time:
Ingredients
8 peeled, quartered large baking potatoes
2 teaspoons butter
½ cup (125ml) milk (you might not need this much)
Salt and pepper, to taste
1½ lbs (625g) good quality, large beef or pork sausages
½ diced yellow onion
1 cup brown gravy, to serve
Fresh parsley, for garnish (optional)
Instructions
Preheat the oven to 350 degrees F (175 degrees C).
Boil the potatoes in water for 20 minutes or until tender.
Drain, then mash with a teaspoon of butter and as much of the milk as you need to get it nice and creamy but not too gloopy.
When it is smooth, add some salt and pepper.
Cook the sausages in a skillet until they are hot through.
Take them out of the skillet.
Put the other teaspoon of butter in the skillet and then saute the onions in there until tender.
Make your favorite gravy recipe (or use a package and follow the instructions on there).
Pour half the gravy into a casserole dish to coat the bottom (use a square or rectangular dish).
Now add the sausages and onions on top, then add the rest of the gravy, and then the mashed potatoes.
Bake uncovered for 20 minutes or until the potatoes are golden brown, then serve hot, perhaps garnished with fresh parsley sprigs if liked.
Notes
To get the drizzle effect like in the picture, you can drizzle some HP sauce or balsamic vinegar over the sausages (but remember a little goes a long way!)
Nutrition Information
Serving size:
⅛ of the recipe
Calories:
570
Some More Hot Content For You
Other Posts You Might Like