Hungarian Venison Goulash Stew
This Hungarian venison goulash stew is a real winter warmer of a recipe, offering amazing comfort food for those chilly fall and winter evenings. An authentic Hungarian recipe, this is sure to fill even the hungriest belly, and it is easy to make as well, even if you are new to cooking venison, new to making stews, or just never made this particular recipe before. The results will be great.
Serving Hungarian Venison Goulash Stew
Serve this Hungarian venison goulash stew with mashed potatoes, fluffy white rice, dumplings, vegetables, or anything else you want. Personally I like garlic mashed potatoes with plenty of butter mashed into them! Leftover stew can be reheated the following day if you want to enjoy this lovely dish twice. You  might be surprised by the amounts of onions and paprika but the onions soften and cook down and the paprika lends an amazing flavor, mellowing as the dish cooks.
You can swap the venison stew meat for another type of stew meat if you wish – lamb, beef, goat or rabbit are all good. Mushrooms would work for a vegetarian take on the dish. Ensure your paprika is fresh too – it should be bright red and fragrant for a perfect result. If you have old paprika and it's losing its color and aroma toss it out because that isn't much good for anything apart from a colorful sprinkling on the top of deviled eggs or similar, for presentation only.
If you usually make beef or chicken stew, this Hungarian venison goulash stew really makes a change of pace from those dishes, bringing an Eastern European flavor to your dinner table. The ingredients are all easy to find and you can use beef stock if you can't get venison stock. The flavor will be delicious either way. Hungarian cooks all seem to have their own recipes for goulash so there is no 'traditional' one exactly, although most will agree the sour cream should be served on the side, not mixed into the dish.
Long, Slow Cooking Time
This takes about 4 hours until the venison is tender enough. The meat should be falling apart and that is your clue the dish is ready. If you want to cook this in a crockpot, expect it to take 8 to 10 hours on low, which would be handy if you wanted to start this off in the morning and then cook it while you're at work. Just imagine the aroma in your kitchen when you get home!

Hungarian Venison Goulash Stew
This rich, hearty stew boasts venison, onion, caraway and 2 kinds of paprika, for a wonderful, typically Hungarian flavor. This is the kind of recipe we can't get enough of during the chilly months.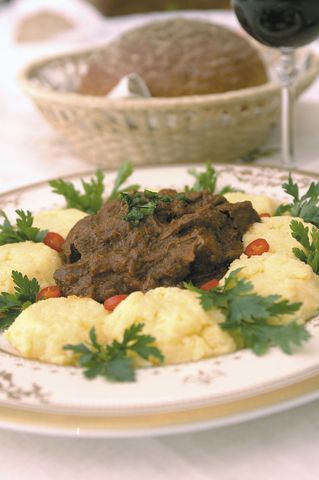 Author:
Victoria Haneveer
Prep time:
Cook time:
Total time:
Ingredients
2 lbs (900g) chopped venison stew meat
¼ cup (60 ml) vegetable oil
1 pint venison or beef stock
2 teaspoons caraway seeds
1 pint water
4 chopped yellow onions
⅓ cup (60g) sweet paprika
1 tablespoon hot paprika
Salt, to taste
Sour cream, to serve
Instructions
Heat the oil over a moderately high heat in a large pot and brown the meat in batches.
Add some salt as it cooks.
Remove the venison from the pot as it browns.
It will take about 20 minutes for all of it to brown.
Put the onions in the pot and saute them over a high heat, stirring frequently, until browned.
Put the browned venison back in the pot with the onions.
Add all the other ingredients apart from the sour cream and a teaspoon of caraway seeds.
Stir well then simmer gently, covered, for 4 hours, or until the venison is falling apart.
Stir in the remaining caraway seeds and add more salt if required.
Serve the stew with sour cream.
Some More Hot Content For You
Other Posts You Might Like