Easy Spaghetti Bolognese Sauce
This easy spaghetti Bolognese sauce is so good. Once you have made it you will never want to use a jar of spaghetti sauce again! Making your own is always best and this recipe is so easy as well. Featuring ground beef and red wine for a full flavor, this easy spaghetti Bolognese sauce also includes garlic sausage or bacon, as well as garlic and mushrooms, for a gourmet flavor.
In fact this easy spaghetti Bolognese sauce would be special enough to serve at a dinner party. Everyone loves Italian food and serve this over fresh spaghetti with a sprig of green basil on top for a beautiful meal. Serve a glass of Italian red wine on the side to add to the Mediterranean feel of the meal, and perhaps offer some tiramisu for dessert just to make the meal even more memorable.
See How Easy It Is
Most of this easy spaghetti Bolognese sauce recipe is just a question of adding the ingredients to a dish and pressing 'cook' on the microwave. That is honestly how easy it is. Once this is cooking in there, put on a pot of pasta and then serve everything together, with some freshly grated parmesan for sprinkling over the top. Yum!
Easy Spaghetti Bolognese Sauce: How to Cook It
This easy spaghetti Bolognese sauce is made in the microwave for the sake of convenience. If you do want to cook it on the stove, you can. The cooking time will be about the same but there will be more stirring and watching to make sure it doesn't stick or dry out.

Easy Spaghetti Bolognese Sauce
Bolognese sauce can be made in the microwave or pan but to keep your stove clutter-free the microwave option works just fine. This sauce is flavored with garlic and red wine.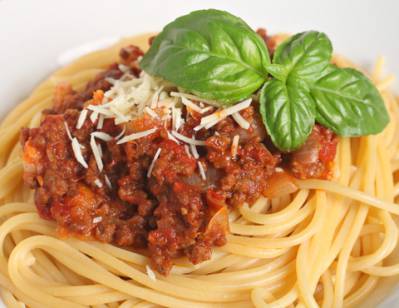 Author:
Victoria Haneveer
Prep time:
Cook time:
Total time:
Ingredients
1 diced onion
1 crushed clove garlic
1 diced green bell pepper
2 tablespoons oil
3½ oz (100g) sliced mushrooms
½ lb (225g) lean ground beef
3 fl oz (100ml) red wine
1 tablespoon mixed dried herbs
3½ oz (100g) diced garlic sausage or bacon
14 oz (400g) can chopped tomatoes
2 tablespoons tomato concentrate
Salt and pepper
Instructions
Mix the onion, garlic, pepper and oil in a bowl.
Microwave on 'high' for 2 minutes or until the onion is soft.
Stir in the other ingredients.
Cover and cook on 'high' for 10 minutes.
Then cook on 'medium' for 15-20 minutes or until the vegetables are soft.
Serve over cooked spaghetti or any kind of cooked pasta.
Some More Hot Content For You
Other Posts You Might Like