Greek Lamb Pasta Bake with Feta
This Greek lamb pasta bake with feta is a delicious dish, pairing pasta with ground lamb, feta cheese and other Greek flavors. It is similar to pastitsio, Greece's answer to lasagna, and you will find it really delicious and warming.
Serve this Greek lamb pasta bake with feta with a simple salad on the side and a balsamic and extra-virgin olive oil dressing, or else just enjoy it by itself. If you're into carbs, a slice of lightly toasted baguette bread would go well with this Greek lamb pasta bake with feta too. There are so many pasta bake recipes to choose from, and the great thing about such a dish is you can use pretty much any kind of ground meat, any kind of cheese, and then choose your own herbs and spices to complement the flavors you have chosen to use.
Greek Lamb Pasta Bake with Feta – What Kind of Pasta?
You can use any kind of pasta for this Greek lamb pasta bake with feta. I often use penne pasta but recently discovered maccheroncelli which is a long, tubular pasta that is great with heavy sauces or in casseroles. Another similar type is perciatelle or you can use macaroni, penne, spaghetti… whatever you like really.Cook the Greek lamb pasta bake with feta until the top is golden brown and crispy and the middle is piping hot. You won't have any complaints at the dinner table when serving this yummy lamb pasta bake! Although the first time I made this I didn't use the mozzarella, you can omit it if you don't want so much cheese on top. Also, you can swap the sugar for sweetener if you prefer to use that.

Greek Lamb Pasta Bake with Feta
Pasta, ground lamb and feta cheese combine with Greek seasonings to make this hearty pasta bake. Although great during any season, this is especially delicious served on a chilly winter evening.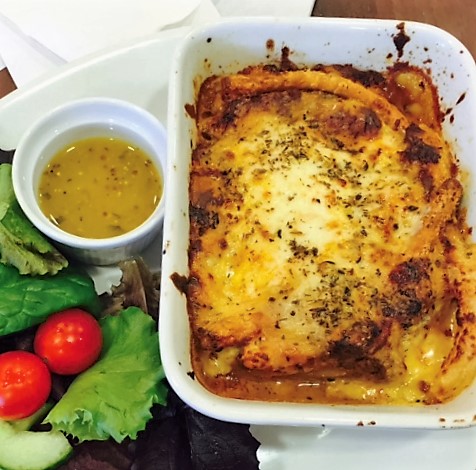 Author:
Victoria Haneveer
Prep time:
Cook time:
Total time:
Ingredients
1 lb (450g) ground lamb
1 chopped yellow onion
1 teaspoon dried basil
4 minced garlic cloves
3 teaspoons dried oregano
¼ teaspoon dried thyme
½ teaspoon salt
¼ teaspoon black pepper
15 oz (420 ml) tomato sauce
14 oz (400g) canned diced tomatoes (not drained)
1 tablespoon lemon juice
¼ teaspoon ground cinnamon
1 teaspoon white sugar
2 cups uncooked pasta shapes
4 oz shredded mozzarella cheese (optional)
4 oz crumbled feta cheese
Instructions
Cook the ground lamb in a big skillet until browned all over, then drain and discard the fat.
Stir in the onion, basil, garlic, oregano, thyme, salt and pepper.
Add the tomato sauce, tomatoes and lemon juice, and bring to a boil.
Turn the heat down and simmer for 20 minutes, stirring every so often.
Stir in the cinnamon and sugar, and simmer uncovered for 15 more minutes.
Cook the pasta following the instructions on the package.
Drain the cooked pasta and stir it into the lamb mixture.
Transfer everything into a greased 2-quart baking dish.
Sprinkle with mozzarella (if using) and then feta.
Cover and bake for 45 minutes at 325 degrees F.
Uncover and bake for a further 15 minutes or until piping hot all the way through.
Notes
The UNBAKED casserole freezes well if you want to make a second batch. So instead of baking it in the oven, let it cool then cover it. It can then be frozen for up to 3 months. When you're ready to cook it, thaw it partially overnight and then take it out of the refrigerator half an hour before baking. Bake it at 325 degrees F it's 165 degrees F in the center.
Some More Hot Content For You
Other Posts You Might Like