Lasagna with Ricotta and Italian Sausage
This delicious lasagna with ricotta and Italian sausage is a snap to make and it freezes well too if you wrap individual portions in plastic wrap and then aluminum foil. Simply unwrap and reheat any time you want to enjoy this ricotta lasagna again. If you want to use ground beef rather than the Italian sausage, go ahead.
Tasty Lasagna with Ricotta and Italian Sausage Additions
Some people like to add some sage to the sausage or use sweet sausage instead of the hot kind and add some red chili flakes. You know which you like best, so go ahead and choose your favorite kind when preparing this lasagna with ricotta and Italian sausage. If you want to use a ready-made, herbed tomato-based sauce rather than the tomato sauce and canned tomatoes, again go ahead.
As well as our basic ingredients in this lasagna with ricotta and Italian sausage recipe, which are the meat, 3 cheeses, lasagna noodles and tomatoes, we are using garlic, parsley, oregano, basil to add aromatic accents to the overall flavor of this dish. After preparing the various components we are going to layer them in a glass lasagna dish, then bake the lasagna in the oven.

Side Dish Options
What are you going to have as a side dish with this pork and ricotta lasagna? I like garlic bread with mine, and perhaps a tossed baby leaf salad with some extra-virgin olive oil and red wine vinegar to dress it. The garlic bread might be carb overkill but what the heck, I like it!

Lasagna with Ricotta and Italian Sausage
Italian sausage, 3 kinds of cheese and lasagna noodles team up with 3 kinds of herbs, garlic and more, and the result is this highly flavorful lasagna. Make a big batch because it freezes beautifully.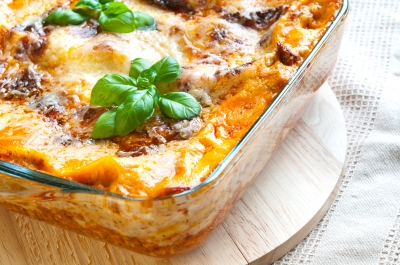 Author:
Victoria Haneveer
Prep time:
Cook time:
Total time:
Ingredients
1 chopped onion
1 minced garlic clove
1 lb (225g) bulk Italian pork sausage
3 tablespoons chopped fresh parsley
1 tablespoon chopped fresh oregano leaves or 1½ teaspoons dried oregano
1 tablespoon chopped fresh basil leaves or 1 teaspoon dried basil
15 oz (425g) tomato sauce
14 oz (400g) diced tomatoes, not drained
1 teaspoon white sugar
12 uncooked lasagna noodles
8 oz (230g) shredded mozzarella
15 oz (425g) ricotta cheese
¼ cup (25g) freshly grated parmesan cheese, plus more for on top
Instructions
Cook the onion, garlic and sausage in a 10-inch (25cm) skillet, stirring often, until the sausage is browned.
Drain off the fat.
Stir in 2 tablespoons of the parsley, along with the sugar, basil, tomatoes, and tomato sauce.
Bring the mixture to a boil and stir it often.
Turn the heat down and simmer for 45 minutes or until noticeably thicker.
Preheat the oven to 350ºF (180ºC).
Cook the noodles and drain them, following the instructions on the box.
Combine the ricotta with ¼ cup (25g) parmesan, the other 1 tablespoon of parsley and the oregano.
Spread a cup (250ml) of the sauce over the base of an ungreased 13x9 inch (33x23 cm) glass baking dish.
Top it with 4 noodles, then spread a cup (250g) of the cheese mixture over the top.
Spread a cup of the sauce mixture over that and ⅔ cup of mozzarella over that.
Repeat these layers, finishing with noodles and sauce and then the last of the mozzarella and parmesan.
Cover and bake in the oven for half an hour.
Uncover and cook for another 15 minutes or until hot and bubbly.
Stand it for 15 minutes then serve your lasagna with ricotta and Italian sausage hot.
Nutrition Information
Serving size:
⅛ of the recipe...
Calories:
465
Fat:
23g
Saturated fat:
11g
Carbohydrates:
36g
Sodium:
1120mg
Protein:
31g
Photo by: Tiramisustudio, at FreeDigitalPhotos.net
Some More Hot Content For You
Other Posts You Might Like