Best Avocado Potato Salad
Have you ever tried avocado in your potato salad? If not, make some avocado potato salad now because it is really tasty! The avocado adds a creamy, nutty, decadent touch to the potato salad which works so well.
This avocado potato salad goes beautifully as a side dish alongside chicken, burgers or any other meat, or try it with fish or something else. Make this once and you are sure to want to make it again and again, and don't be surprised if everyone asks you for the recipe.
Which Potatoes to Use in Avocado Potato Salad
We are using baby red-skinned potatoes here but you can use brown-skinned ones if you wish, or even larger potatoes cut into cubes. They should be boiled until they are just tender, no more else they will fall apart too easily in the avocado potato salad and that is not what you want.
Use freshly squeezed lemon juice for the tastiest result and if you have some leftover potato avocado salad then squeeze extra lemon juice into it, to help preserve the bright green avocado color and prevent browning. You can keep any leftovers (although there usually aren't any!) in a covered container in the refrigerator for 2 or 3 days.
The Addition of Avocado
Adding avocado to your potato salad is so clever because it tastes so good, and you will wonder why you never thought of doing this before now. The dill in our avocado potato salad adds an aromatic flavor to the dish while the lemon performs 2 functions – adding a bright acidic note, plus keeping the avocado bright green instead of letting it turn brown.
This easy recipe is great for warm sunny days when you are cooking burgers or sausages on the grill and looking for something unusual to go with it. You can make this in advance of course, and just take it out of the refrigerator when the meat is done and you are ready to serve.

Best Avocado Potato Salad
This wonderful take on potato salad gets its creamy, rich texture from the avocado. Dill and green onion are also added, along with lemon, for a gourmet flavor everyone will love.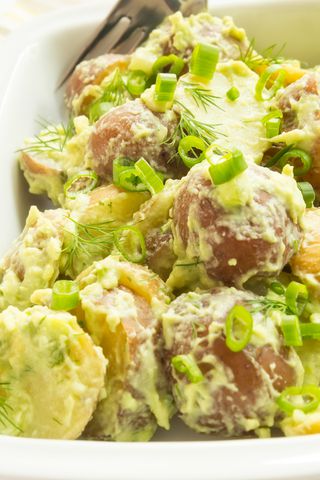 Author:
Victoria Haneveer
Prep time:
Cook time:
Total time:
Ingredients
2 lbs (900g) baby red potatoes
2 tablespoons sour cream
2 thinly sliced green onions
1 mashed large avocado or 1½ small ones
1 tablespoon lemon juice
1 tablespoon finely chopped fresh dill
½ teaspoon salt
Instructions
Boil the potatoes in salted water for 20 minutes or until just tender.
Drain them then let them chill for an hour.
Chop the potatoes and put them in a bowl.
Combine the lemon juice with the avocado, then stir in the green onions, dill, salt and sour cream.
Combine the potatoes with the avocado mixture and serve right away garnished with extra dill and green onion slices if you want.
Some More Hot Content For You
Other Posts You Might Like