Best Chicken Caesar Salad
This is an amazing recipe and something I make often. In my opinion this is definitely the best chicken Caesar salad you can make. Sometimes I roast chicken legs and then make this without the chicken, and serve the two together. Caesar salad is something I love and it is one of my favorite salads. I always have Caesar dressing in the refrigerator and serve it with buffalo chicken sometimes since ranch dressing is something unheard of where I live.
Although this best chicken Caesar salad recipe uses mayonnaise in the dressing rather than raw eggs, it is still really nice. A lot of people don't like using raw eggs in recipes or can't eat them for a health reason, so this recipe is a good compromise.
This recipe combines chicken, ciabatta bread croutons and romaine lettuce with a delicious dressing and other ingredients like bacon and Parmesan cheese.
Adapt the Recipe if You Want
Omit the chicken and you can serve this with any meat or fish you like, or include the chicken to make it substantial enough to serve as the main dish for lunch or dinner.
This best chicken Caesar salad recipe is surprisingly simple to put together and if you are into salads you will love the flavor of this recipe. Caesar salad is a classic dish and if you are bored with your usual lunch or dinner recipes you might like to make this and see what a refreshing change it makes.
Quick Way to Wash the Lettuce
I use a salad spinner to spin the lettuce. I put the salad leaves in the plastic bowl and rinse them and then put them into the sieve part, spin it and get rid of the excess water. I use my salad spinner numerous times a week and it was a great investment. You can also rinse the lettuce in the sink if you prefer.
Chicken Caesar Salad
Chicken, ciabatta croutons and romaine lettuce combine with a homemade anchovy and garlic dressing. Add parmesan shavings and more for a wonderful Caesar salad.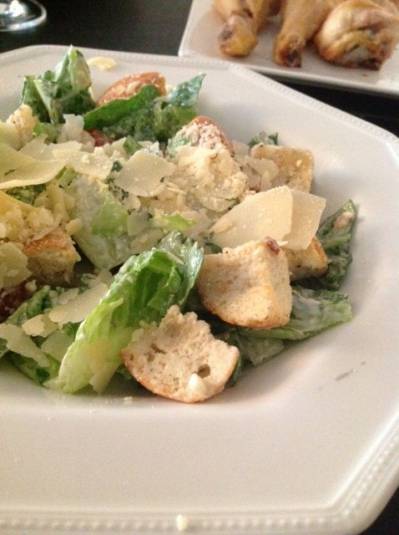 Author:
Victoria Haneveer
Prep time:
Cook time:
Total time:
Ingredients
1 medium loaf of Ciabatta bread or 2 Ciabatta buns
3 tablespoons olive oil
2 skinless, boneless chicken breasts
Leaves of 1 large Romaine (Cos) lettuce
2 crumbled bacon slices (optional)
For the Dressing
¼ cup (60ml) freshly squeezed lemon juice (from 2 lemons)
1 garlic clove
¼ cup (4 tablespoons) grated Parmesan
¼ cup (4 tablespoons) mayonnaise
2 roughly chopped anchovy filets
Instructions
Preheat the oven to 400F (200C).
Tear the bread into big croutons or cut them using a bread knife.
Arrange the croutons on a baking sheet and sprinkle 2 tablespoons of olive oil over them.
Rub the oil into the bread and season with some salt.
Bake for about 9 minutes, turning the croutons once or twice during cooking so they turn golden brown evenly.
Take them out of the oven and set them to one side to cool.
Rub the remaining tablespoon of oil over the chicken breasts and season them.
Cook the chicken in a pan for 4 mins then turn it and cook for 4 more minutes or until cooked through.
When the chicken is white inside (not pink) it is cooked.
Combine the dressing ingredients in a blender or food processor and whiz until well combined (else just mash the anchovies against the side of a bowl and then stir in the other ingredients by hand).
Shave more cheese with a peeler and then tear the lettuce into big pieces and put it in a bowl.
Pull the chicken into bite-size strips and scatter half over the leaves, along with half of the croutons.
Add most of the dressing and toss using your fingers.
Scatter the rest of the chicken on top and then add the croutons.
Drizzle with the remaining dressing (including the bacon if using), sprinkle the shaved Parmesan cheese on top and serve immediately.
Notes
Leave out the bacon in this best chicken Caesar salad if you don't want to use it.
Leave out the chicken if you are making this as an appetizer or side dish, not a main dish.
Feel free to adjust the amount of mayo, vinegar etc, so the end flavor is nice.
The dressing should be the texture of yogurt so add a little water if it is too thick.
Nutrition Information
Serving size:
4
Calories:
540
Fat:
40g
Saturated fat:
13g
Unsaturated fat:
24g
Trans fat:
0g
Carbohydrates:
8g
Sugar:
1g
Sodium:
1278mg
Fiber:
0g
Protein:
37g
Cholesterol:
87mg
Some More Hot Content For You
Other Posts You Might Like