Chinese Chicken Salad
Chinese chicken salad is a tasty, nutritious option and it makes a wonderful lunch. Perhaps you usually have ranch dressing, blue cheese dressing or Italian dressing over mixed leaves and you are getting tired of it.
Or it could be you are simply looking for new lunch inspiration. Whichever is the case, this Chinese chicken salad is very simple to prepare and the flavors work wonderfully together.
What is Chinese Chicken Salad?
You can use a julienne peeler to cut the vegetables into matchstick shapes, or if you don't have one cut them by hand. We are using romaine and baby leaves in this dish too, along with grilled chicken, edamame beans, green onion and mandarin segments. The dressing is especially delicious, made with soy sauce, hot sauce, garlic, honey, mustard, rice wine vinegar, and herbs.

A teaspoon of hot sauce in your Chinese chicken salad dressing really kicks up the heat a notch. You can adjust this though if you would rather make a mild-tasting dressing. Serve this for lunch or have it as a light evening meal.
Feel free to adjust the ingredients if you don't have some of them. You can use different lettuce, switch the vegetables around or use steamed chicken. Make it your own. This is the best Chinese chicken salad in terms of flavor, in my opinion!
Make Your Chinese Chicken Salad Unique
When I make it I usually just take a look in the vegetable drawer and pull out anything that needs to be used up. If you want to use just salad leaves, chicken, mandarin segments, noodles and the dressing though, that is also fine. You could even throw some chopped nuts in there.
This easy Chinese chicken salad is wide open to tweaking, so make it however you wish, using the ingredients you have available.

Chinese Chicken Salad
Chicken, mandarin segments, noodles and a tangy sauce make this one of the most delicious salad recipes. Try this for lunch, experiencing the magical Asian flavors in every single mouthful.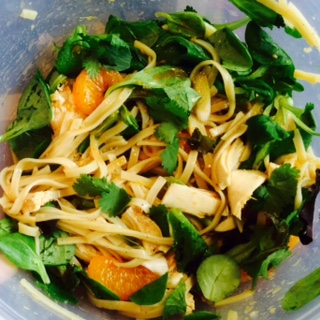 Author:
Victoria Haneveer
Ingredients
16 canned mandarin segments
1 chopped romaine lettuce
1 cup (150g) chopped grilled chicken
2 chopped green onions
½ cup (75g) cooked, shelled edamame beans
½ julienned red bell pepper
1½ cups (2 handfuls) mixed baby leaves
½ cup (25g) julienned carrots
¾ cup (115g) cooked ramen or chow mein noodles
½ cup (25g) julienned red cabbage
For the Dressing
½ teaspoon dried parsley
1 teaspoon soy sauce
4 tablespoons olive oil
2 teaspoon sesame oil
1 teaspoon garlic powder
2 teaspoon Dijon mustard
½ teaspoon dried basil
1 teaspoon hot sauce
2 tablespoons rice wine vinegar
1 teaspoon honey
Black pepper, to taste
Instructions
Put the dressing ingredients in a jar and shake to mix, or combine them in a food processor.
Set the dressing to one side to let the flavors blend.
Toss the leaves, romaine, cabbage, green onion, bell pepper, carrots and edamame together.
Add in the dressing and toss a few times.
Add in the noodles, chicken and mandarin segments.
Toss the mixture once more, then divide the salad between 4 chilled plates and serve.
Notes
When I made this, I left out the julienned vegetables and added cilantro instead, which worked very nicely
Some More Hot Content For You
Other Posts You Might Like