Creamy Potato Salad with Bacon
Potato salad is always good but add bacon and you have a really mouthwatering side dish. The following creamy potato salad with bacon is a recipe which is very simple to make; the potato salad will keep for a few days once prepared. Serve it chilled or room temperature. Some people even like it served warm, as soon as it is made.
Use boiling potatoes to make potato salad, not mashing potatoes which tend to disintegrate too easily. The choice of dressing is up to you.
While a lot of people just use their favorite mayonnaise, you might prefer another kind of creamy dressing for this creamy potato salad with bacon, else you can use half mayo half sour cream, half yogurt half ranch dressing, or anything else you fancy. A bit of Dijon mustard in the dressing really brings out the flavor of the potatoes and complements the dish.
Perfect Crunch and Flavor Balance
Finely diced celery or green onion is great for adding crunch to our creamy potato salad with bacon, while you can add flavor with herbs, spices or other ingredients. The bacon adds plenty of flavor. Remember it also adds saltiness so limit the amount of salad used in the recipe, and then you can always add it later if necessary.
Some people like to add chopped hard-cooked eggs to their creamy potato salad with bacon, and you can do that if you wish, or even add something else, like chopped raw avocado, olives, walnuts or even some blue cheese.
Few dishes beat homemade potato salad. Serve this and you can be sure of an empty dish very soon after serving it. The whole family will go crazy for this homemade potato salad with bacon.
Creamy Potato Salad with Bacon
Potato salad is rich, hearty and creamy. It makes a lovely side dish for hot dogs or meat, or you can offer it at a buffet. This following recipe is so easy to make as well.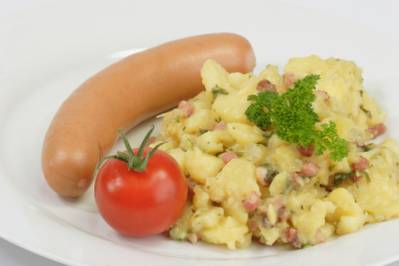 Author:
Victoria Haneveer
Cuisine:
USA (Traditional)
Prep time:
Cook time:
Total time:
Ingredients
6 cups peeled chopped potatoes
¼ cup minced red onion
2 sliced green onions
2 bacon strips
1 cup chopped bell pepper
For the Dressing
1 tablespoon Dijon mustard
¼ cup extra-virgin olive oil
3 tablespoons red wine vinegar
1 tablespoon mayonnaise
Salt and black pepper, to taste
Instructions
Put the potatoes in a pot with enough water to cover.
Season with ¼ teaspoon salt.
Bring to a boil over then simmer for 10 minutes or until tender.
Drain and cool slightly.
Fry the bacon in a skillet until crisp, then drain on paper towels and chop.
Toss the potatoes with the chopped bacon, bell pepper and onions.
Whisk the dressing ingredients together.
Pour this over the potato mixture and toss gently to coat.
Cover and chill or serve at room temperature.
Some More Hot Content For You
Other Posts You Might Like