Curried Chicken Waldorf Salad Recipe
If you fancy making a waldorf salad recipe with a twist, try this delicious version with curried chicken. A traditional waldorf salad contains just red apples, mayonnaise and celery and the walnuts came later. You can use more curry paste in this curried chicken waldorf salad recipe if you want, depending how hot you like it.
An Interesting Twist
Puritans might argue this curried chicken waldorf salad recipe is not actually a "waldorf salad" exactly, because there are other ingredients in the mix which never appeared in the original dish. But I prefer to say this is a twist on the classic recipe, because it features everything you would expect to find, that wonderful combination of sweet and savory, soft and crunchy, as well as other ingredients too, to support the flavour and add further dimensions to the overall taste of it.
This curried chicken waldorf salad recipe is a great option as a starter recipe because it is light enough not to fill everyone up before their main course but filling enough to be a good appetizer. Waldorf salad is known all around the world and if you like the classic recipe for it but wish to try something slightly different, this dish is very good.

Waldorf Salad Starter
Waldorf salad is a recipe we all know and love, but what happens when you switch up the ingredients a little? This salad features curried chicken to add an exciting flavor to this salad.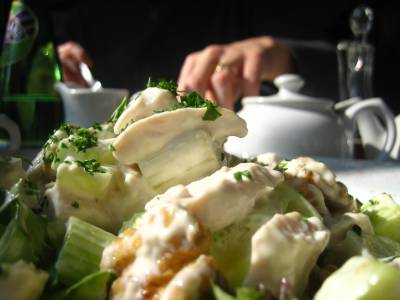 Author:
Victoria Haneveer
Ingredients
500g (1 lb) skinless, boneless cooked chicken in 10 cm (4 inch) strips
1 teaspoon curry paste
150ml (2/3 cup) mayonnaise
150ml (2/3 cup) natural yogurt
1 small lettuce, shredded
75g (1/3 cup) walnuts, chopped
100g (3½ oz) green seedless grapes, halved
4 spring onions (scallions) or 1 small onion, chopped finely
2 dessert apples
4 stalks of celery, chopped
Juice of a lemon
Salt and black pepper
Instructions
Combine the mayonnaise and yogurt.
Mix the curry paste and lemon juice and fold this into the mayonnaise mixture.
Core and slice the apples without peeling them.
Add these to the mayonnaise with the grapes, walnuts, celery and onions.
Add the chicken, turning to coat well with the mayonnaise.
Taste and season with salt and pepper and perhaps more lemon juice if necessary.
Divide the lettuce between 4 bowls, arrange the salad on top and serve right away.
This spin on waldorf salad is great. Enjoy this curried chicken waldorf salad recipe as an appetizer or light meal with bread or crackers. Not only can you enjoy an appealing curried salad but you get the classic waldorf ingredients in it. The mayonnaise and yogurt make a creamy dressing. The mayonnaise is creamy and the yogurt stops it from being too rich. Yogurt is often served with curry, another reason to use it. The walnuts and grapes add nutrients, as do the other ingredients, and of course the chicken is wonderful in this recipe. If you are in the mood for something new, why not try this delicious waldorf salad? Served over lettuce or even used to fill sandwiches, you are sure to enjoy its aromatic flavour.
Image courtesy of Adactio, on Flickr.com
Some More Hot Content For You
Other Posts You Might Like