Authentic Egg Fried Rice without Soy Sauce
Egg fried rice without soy sauce is a dish lots of people want to make but since soy sauce is one of the key ingredients it can be puzzling working out how to get around that. Fried rice is one of the best-known Chinese dishes, but the authentic recipe is quite different to what you might be used to. For example, have you tried making egg fried rice without soy sauce? That is how it is made in China, well in many parts of the country, and the more authentic option in many cases.
Egg Fried Rice without Soy Sauce: Such a Tempting Dish to Make
Egg fried rice is the dish to make when you want to use leftovers to rustle up something quick and easy, something comforting and tasty, something literally anyone can make regardless of culinary expertise or cooking experience.
This egg fried rice without soy sauce dish is easy, folks, and delicious too! But before you grab your wok and leftovers, you need to know a few tips about how to make the best egg fried rice recipe ever.
Egg fried rice is found all over the globe, either the authentic version or something more tailored toward the country in question. In China, egg fried rice is considered a meal rather than a side dish, and it might be enjoyed for breakfast, lunch or dinner.
Egg Fried Rice without Soy Sauce: Important to Know
The key to making wonderful egg fried rice without soy sauce is pre-cooking your meat and veggies, and using dry fluffy rice (not cooking it fresh or just before you make your egg fried rice recipe).
I usually use rice which was cooked 1 or 2 days prior but as long as you leave a few hours between the initial cooking and making the egg fried rice (as many hours as you can) it should still work out. This tip applies to all fried rice dishes, including nasi goreng Indonesian fried rice, which is similar in terms of texture.
You could even use a rice cooker and slightly less water, and the resulting rice could be used, if you really want to make this but don't have leftover rice (or much time). Use about 2 cups of raw rice to end up with a pound of cooked rice (what you need for our recipe). Our recipes serves 2 or 3 as a main dish, maybe 4 or 5 as a side dish. Feel free to double or triple it if you need.
Transforming Humble Leftovers into Amazing Fried Rice
This egg fried rice without soy sauce dish is traditionally made with whatever meat and vegetables you happen to have and you should treat our recipe as a guideline, switching out ingredients wherever necessary, to make use of what you have. As long as you have leftover cooked white rice and some kind of leftover meat/fish and some veggies, you are ready to go!
Cooked rice needs to be spread out on a tray and left alone to cool, then refrigerated. Don't leave it out for more than 2 hours (for safety reasons). The green onions are added raw and the eggs are added during cooking. Apart from those ingredients everything else should be pre-cooked, because when you're making the dish you don't have time to do more than heat your ingredients through.
Preparing the Eggs
You will see we beat the eggs slightly then cook them a bit before adding the rice. That's a good tip for making egg fried rice without soy sauce. The reason for that is if you add the rice and then tip the raw eggs into the pan you will end up with bits of egg stuck to the rice – basically a bit of a mess. Par-cooking them means you will get some egg stuck to the rice, some in bigger 'chunks' – a more interesting texture.
Use vegetable oil or peanut oil in this recipe – either wo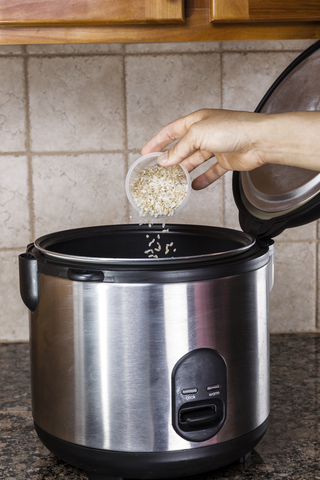 rks. Some people like to add a pinch of brown sugar to the recipe for a slightly sweeter result. This depends on your palate but is an option. Adding a pinch of MSG (labeled as 'Accent') is another option.
Good Organization in the Kitchen
If your pan is hot enough the eggs will start cooking right away, so have ALL your ingredients next to you and ready to be added. Halfway through cooking this dish is certainly not the time to be chopping or dicing anything.
Your ingredients must all be ready before you begin, and have your serving bowls and chopsticks ready too. This egg fried rice without soy sauce dish takes about 5 minutes to cook once everything is prepared.
Preparing Your Ingredients
Dice all your meat/seafood and veggies about the same size for even cooking.
You can swap the pork in our recipe for any leftover cooked meat, such as beef or chicken, or even shrimp or fish, and the vegetables can be any diced vegetables. Char siu pork is available from any Asian food market selling barbecued chicken, or you could cook your own or use another kind of leftover meat or fish.
If you want to make a vegetarian egg fried rice without soy sauce, swap the chicken stock for vegetarian stock. Also use cooked, diced carrots, along with peas, corn and beans. I like to add pineapple (canned is OK too) sometimes. Just get creative and add whatever you want, and you are sure to end up with a great result.
Is Soy Sauce a No-No Then?
If you do want to add a splash of soy sauce, of course you can because that is your recipe, but some people believe it makes the rice soggy and others simply don't like soy sauce and prefer not to use it. That's the whole reasoning behind egg fried rice without soy sauce.
In some countries, egg fried rice without soy sauce isn't such an attractive proposition. In parts of Malaysia, for example, kecap manis or ketjap manis (a thick, sweet soy sauce variant) is a key ingredient and canned spam, which was pretty much the only meat option during the war, also has a place in this dish. I don't mean to generalize, just give you an example of how what it the best way of making something in one person's opinion isn't necessarily the best way in another's opinion.
What you should take away from this is that there is no right or wrong way to make egg fried rice. As long as you like the flavor and texture of the finished dish, you have made it right! Garnish it with a chili pepper and green onion for a colorful result if you like, and enjoy the best egg fried rice you have ever made.

Authentic Egg Fried Rice without Soy Sauce
This is an authentic Chinese recipe for egg fried rice and you will see soy sauce is not an ingredient. Leftover rice, meat and veggies combine to make this beautifully balanced, comfort food style dish.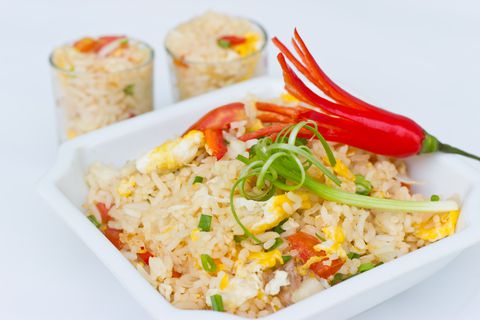 Author:
Victoria Haneveer
Prep time:
Cook time:
Total time:
Ingredients
1 lb (450g) cooked rice
2 tablespoons vegetable oil
10½ oz (300g) diced char siu pork
5 oz (150g) cooked shrimp
3 tablespoons cooked peas
½ teaspoon salt
2 diced green onions
1 whole egg and 2 egg yolks
½ teaspoon chicken stock powder
Instructions
Get your wok or pan nice and hot.
Add the oil and swirl to coat the pan then pour out any excess oil.
Beat the eggs for 10 seconds with a fork, then pour them into the pan.
When the egg is cooked add the rice and cook, using a spatula to move the eggs and rice around.
Keep everything moving all the time so nothing sticks to the pan.
Beat the rice with your spatula to separate out the grains, so the egg can coat them.
Add the chicken stock powder and salt and mix them in.
Add the cooked meat and veggies and keep cooking, moving the ingredients around the pan until well combined.
Keep doing this for a couple minutes until everything is heated through.
Toss the green onions through the mixture, then serve hot.
Which is the Best Rice Cooker?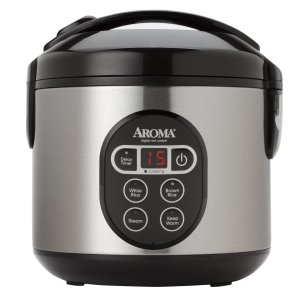 This is an amazing gadget for your kitchen and if you often cook rice you will find this indispensable – a really quick and easy way to cook your rice.
Rice can be used to make snacks, appetizers or main dishes, as well as side dishes, and it is a tasty, economical choice.
Convenient and Versatile
If you have a rice cooker, you will find yourself using it often. This Aroma 8-Cup model can be used to prepare anywhere between 2 and 8 cups of rice and it can also steam your meat and veggies while the rice cooks below.
The programmable, digital controls are simple to use and there is a keep-warm function, so you can see how making your rice in here beats using a regular pot hands-down. A rice cooker might not be something you have considered before, but it makes such light, easy work of cooking rice you will soon wonder how you managed without it! Try it the next time you make egg fried rice without soy sauce.
You can choose between brown and white rice, and also use it for chili, jambalaya, soups etc. The 15-hour delay timer is great for planning your meals flexibly, and you get a rice measuring cup, steam tray, recipes and coupons, and a serving spatula. This is one of the best-rated rice cookers online, and a real bargain.
Top-Rated Aroma 8-Cup Rice Cooker, on Amazon
Some More Hot Content For You
Other Posts You Might Like