Easy Chicken Laksa Recipe
Laksa is a spicy noodle soup, and this easy chicken laksa recipe is well worth making. It originates from the Peranakan culture, which is a blend of Malay and Chinese. This culture is found in Malaysia, Indonesia and Singapore. There are 2 main kinds of laksa, curry laksa and asam laksa. The curry kind is a coconut curry soup and the asam kind is a sour fish soup.
Different Kinds of Laksa Recipes
Both kinds have noodles, and these might be thick rice noodles or rice vermicelli. Thick rice noodles are called 'laksa noodles' in some places.
Curry laksa might include fish sticks, cockles, shrimp or bean curd puffs. Alternately it might be made with chicken, like the following easy chicken laksa recipe. A spoonful of sambal (chili sauce) and some Vietnamese cilantro are nice to garnish the soup.
Asam laksa is a sour soup with fish and it features tamarind to provide the sour taste. Some recipes use dried sour mangosteen for more sourness. The main ingredient in this kind of laksa is shredded fish, and it includes finely sliced veggies too, as well as thick or thin rice noodles. Some kinds of laksa combine both coconut milk and fish, and fall into both categories.
The following easy chicken laksa recipe may be adapted. You can see some shrimp in the photo, and if you want to add shrimp to the dish, as well as the chicken, go ahead. You can also add other kinds of fish if you want more protein, or even hard-cooked quail or regular eggs.

Chicken Laksa
Laksa is rich in flavors, and this Indo-Chinese dish makes a fantastic meal. The dish is spicy and aromatic. You will be pleased how easy it is to prepare as well.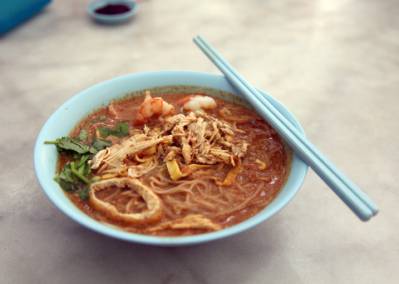 Author:
Victoria Haneveer
Prep time:
Cook time:
Total time:
Ingredients
2 tablespoons sunflower oil
1 cup (250ml) coconut milk
1 lb 2 oz (500g) sliced chicken thigh fillets
⅓ cup (100g) laksa paste
1 tablespoon grated palm sugar
1 tablespoon fish sauce
2 tablespoons lime juice
1½ cups (375ml) chicken stock
2 shredded kaffir lime leaves
7 oz (200g) dried vermicelli rice noodles
2 cups (160g) bean sprouts
½ cup (28g) Thai basil leaves
½ cup (28g) cilantro leaves
Fried shallots and sliced red chilli, for garnish
Instructions
Heat the oil in a wok over a medium-high heat.
Season the chicken, then stir-fry it in batches for 4 minutes or until just golden. Remove the chicken from the wok.
Add the laksa paste to the wok and stir-fry for 1 minute or until fragrant.
Return the chicken and add the coconut milk, stock, kaffir lime and ½ cup (125ml) of water.
Bring the soup to the boil then turn the heat down to medium-low.
Simmer for 10 minutes or until chicken is cooked.
Stir in fish sauce, sugar and lime juice to taste.
Cook the noodles following the instructions on the packet.
Drain the noodles and divide between 4 serving bowls.
Ladle the laksa over the noodles and top with the bean sprouts, Thai basil, cilantro, shallot, quail egg and chili.
Notes
If you like, you can add quail eggs to this dish. Put 8 in a pot of cold water, bring to the boil then cook for 3-4 minutes or until hard-boiled. Rinse under cold water, then peel, halve and use to garnish the laksa.
Nutrition Information
Serving size:
¼ of the Recipe
Calories:
650
Fat:
35
Saturated fat:
14
Carbohydrates:
51
Sugar:
10
Sodium:
1246
Fiber:
3
Protein:
29
Cholesterol:
165
Some More Hot Content For You
Other Posts You Might Like