Lebanese Cucumber Soup Recipe
This Lebanese cucumber soup recipe is a chilled soup. These soups are popular in the Middle East and you will find chilled soups very refreshing if you're not used to them. Adding fresh mint helps with the cooling effect. Live, natural yogurt is a great ingredient because it's very good for the digestion.
Have you tried chilled soup before? The first chilled soup I ever tried was gazpacho, that tomato and vegetable soup from Spain which is always tasty and refreshing. I have also tried chilled watermelon soup and a strawberry soup too one time in a restaurant. This Lebanese cucumber soup recipe is different though because it is creamy and light.
A hot soup might be thin like consomme or it might be thick and chunky, while chilled soups are almost always thin. Imagine if they were thicker and it would be like eating porridge or sauce, so keep the soup thin and light and it will be refreshing and very nice.

Lebanese Cucumber Soup Recipe: A New Flavor for You
Making this is worthwhile if you want to bring a brand new flavor and different cuisine to your dinner table. A chilled soup is already a novel idea but add some Lebanese flavors to it instead of the flavors you usually have in your soups, and you will have not only something refreshing and very tasty, but something offering a brand new flavor to delight the family.

Cold Cucumber Soup Starter
Cool, creamy and refreshing, boasting hints of lemon, garlic and cumin, this unusual chilled cucumber soup is typically Lebanese and fits the bill perfectly when you want soup in a summertime tradition.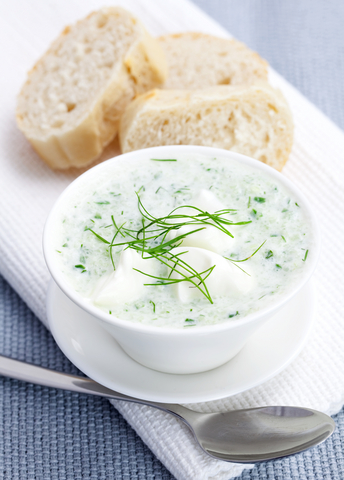 Author:
Victoria Haneveer
Prep time:
Cook time:
Total time:
Ingredients
1 cucumber
225 ml (1 cup) natural yogurt
1 clove garlic
2 spring onions (scallions)
1 teaspoon lemon juice
Pinch of cumin
75 ml (1/3 cup) sour cream
1 tablespoon fresh mint, chopped
Mint sprigs to garnish
Salt and black pepper
Instructions
Reserving a bit of the cucumber for garnish, peel the rest and chop or finely grate it over a bowl to catch any juice. Trim the onions and finely chop the bulbs and about 8 cm (3 inches) of the green stalk.
Crush and finely chop the garlic. Mix the cucumber and its liquid with everything else. Stir until smooth. Season to taste. Chill the soup mixture until you need it then divide between 4 soup bowls. Garnish with thin slices of cucumber and sprigs of mint.
If you are looking for something completely different this recipe might be the perfect one. Cucumber is not suitable for cooking because it has too much water content but it is lovely to make salad and garnish dishes. It is also ideal for making soup such as this Lebanese cucumber soup recipe. This is light and refreshing and a beautiful dish to serve when the weather is very hot. Because it is Lebanese, if you make this you will be offering your dinner guests their first taste of Lebanese food, another reason to make it. It's always nice to make something different. Everyone loves prawn cocktail or tomato soup, but making something different can be good too and there's nothing not to like with this tasty, refreshing Lebanese cucumber soup recipe.
Some More Hot Content For You
Other Posts You Might Like