Lightly Spiced Pumpkin Soup
Pumpkin soup is a real favorite in this household but I never buy it, I always make it! There are two main ways to prepare this soup – leaning either towards the savory or towards the sweet. This lightly spiced pumpkin soup appeals to anyone who loves pumpkin and is neither too savory nor too sweet.
Personally I like my pumpkin soup sweet although I add savory ingredients to it such as onion and garlic. Although roasting the pumpkin first is something most people do, if you are in a rush, you could just add it to the pot and let it simmer in the stock until tender. The flavor will not be that different. But if you want the best possible experience do roast it first.
Lightly Spiced Pumpkin Soup Tips
It is often better to take more care. When you make a wonton soup recipe for example it is better to cook the wontons then add them to the soup. The flavor is better. Roast vegetables before adding them to the soup just so you get a nicer flavor.
This lightly spiced pumpkin soup can be drizzled with cream or you can add a dollop of sour cream if you prefer. I like mine with crusty bread which I use for getting every last bit of this delicious soup out of my bowl.
Silky Smooth Soup with Pumpkin
Featuring just a hint of spice, this soup is rich, thick and perfect for pumpkin fans. The pumpkin and garlic are roasted first, for maximum flavor and sweetness. This makes a lovely lunch or appetizer.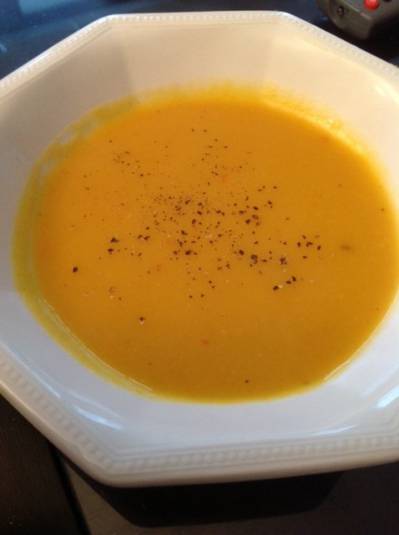 Author:
Victoria Haneveer
Prep time:
Cook time:
Total time:
Ingredients
1 chopped yellow onion
4 cups chicken stock
4 garlic cloves
2 lbs peeled, de-seeded pumpkin
½ teaspoon ground nutmeg
1 tablespoon cooking oil
1 teaspoon ground cumin
Salt and black pepper, to taste
Cream, to serve (optional)
Instructions
Preheat the oven to 375 degrees F.
Chop the pumpkin into small pieces and put them in a baking dish with the unpeeled garlic.
Drizzle 3 teaspoons oil over and roast for 20 minutes.
Take out the garlic but give the pumpkin another 10 minutes, or until tender.
Don't let it burn.
Heat a teaspoon of oil in a big pot over a moderate heat.
Add the nutmeg, cumin, onion, salt and black pepper and cook for a minute, stirring continuously.
Add the pumpkin and stock, then bring the soup to a boil.
Turn down the heat and simmer uncovered for 20 minutes or until the onion is soft.
Peel the garlic and add it to the pot, then puree using a hand blender.
If you have no hand blender, let the soup cool a bit then puree in a regular blender, in batches.
Drizzle with cream if liked.
Notes
As it cooks the stock will reduce. The more it reduces the thicker your soup will end up.
Serve this soup with bread for dipping or even some shredded cheese on top instead of the cream.
Nutrition Information
Serving size:
5
Calories:
188
Fat:
8g
Saturated fat:
2g
Unsaturated fat:
5g
Trans fat:
0g
Carbohydrates:
25g
Sugar:
10g
Sodium:
318mg
Fiber:
6g
Protein:
7g
Cholesterol:
12mg
Some More Hot Content For You
Other Posts You Might Like