Thick and Creamy Pumpkin Soup
Thick and creamy pumpkin soup is a winter favorite. There are many ways to make it and a lot of people like it thick, rich and sweet, but there are also more savory options.
In some parts of Europe, for example, the soup will include onion, garlic, bacon and herbs. In other parts of the world this soup is made very sweet and can almost be compared to a dessert. No wonder thick and creamy pumpkin soup is so popular with the kids.
Personally I love the 'comfort food' kind of pumpkin soup and I love adding maple syrup, cream and other wonderful ingredients to bring out the flavor of the pumpkin. I like to roast my pumpkin before making the soup, just because it brings out the natural sweetness and enhances the flavors that are in the pumpkin.

Thick and Creamy Pumpkin Soup: Simple Yet So Delicious
You might be surprised by how few ingredients there are in this recipe but you honestly don't need any more because the pumpkin has sufficient flavor for the whole soup, and the other ingredients just support the pumpkin flavor and round out the taste of the soup.
You will want to make this regularly once you try it. If you cannot get fresh pumpkin then you may use canned pumpkin (the 100% kind, not pumpkin pie filling) and it will be almost as good.

Thick and Creamy Pumpkin Soup
You only need a few ingredients to make this wonderfully thick and creamy pumpkin soup. The maple syrup and cream make this such a tasty, luxurious dish.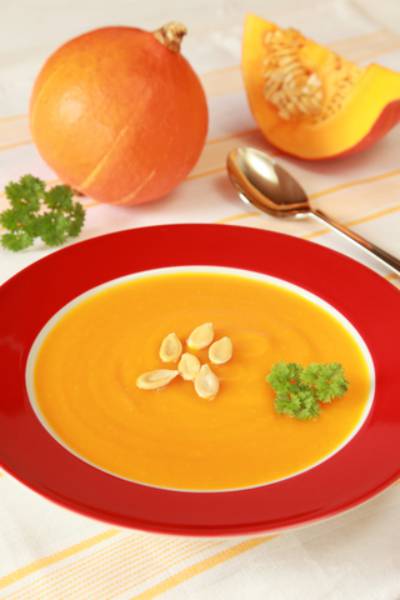 Author:
Victoria Haneveer
Prep time:
Cook time:
Total time:
Ingredients
2 pie pumpkins
⅓ cup maple syrup
1 quart chicken stock
½ cup heavy cream
Pinch each of salt and nutmeg
Cream, to serve
Instructions
Cut the pumpkins in half and roast them at 300 degrees F for 45 minutes or until they are soft.
Let them cool slightly, and then scoop out the pulp and seeds.
Scoop the flesh into a pot then heat it with the maple syrup and stock until it starts to simmer.
Use a potato masher to smooth out any big chunks, then puree the rest in your food processor or blender.
Stir in the salt, nutmeg and cream and blend again.
Notes
Use pumpkin seeds to garnish the soup, or fresh herbs, or even add another swirl of cream.
Some More Hot Content For You
Other Posts You Might Like