Authentic Spanish Omelet Recipe
Spanish omelet, or tortilla espanola as it is also known, is a combination of potatoes and eggs, giving you not only a ton of flavor, but also a protein and energy boost. You can eat a Spanish omelet recipe hot, chilled or at room temperature.
I Love This Spanish Omelet Recipe!
When I lived in the Canaries and mainland Spain, a Spanish omelet recipe was one of my favorite tapas, and sometimes I would indulge in a Spanish omelet sandwich in crusty bread with aioli (garlic mayonnaise) and a touch of ketchup too. Oh – and a slice of cheese. Now that was a real treat!
The main ingredients you need to make tortilla espanola are eggs and potatoes. Onion is optional but that lovely crunch and bite of flavor it offers are great, so I would strongly suggest using onion in this dish, as well as perhaps some salt and black pepper.

Learning how to make Spanish omelet is incredibly easy. If you can slice potatoes and beat eggs, you are halfway there!
Use Idaho potatoes or another firm variety in this recipe. Creamier ones might fall apart. They are great for mashing but not for serving boiled, in salads, or in recipes where you need them to hold their shape, like this one. Peeling them is not compulsory but most home cooks prefer to peel them. If you aren't going to though, make sure you scrub them well.
More Suggestions for our Spanish Omelet Recipe
You will need another egg or 2 if you are using big potatoes instead of smaller ones. The onion is also optional but if this is your first Spanish omelet, use it, because it is so good in this dish. Serve the finished potato omelet with a salad on the side or even some steamed asparagus if you prefer.
If you are having it tapas-style then consider serving it as part of a Mediterranean tapas platter along with cheese, salami and cherry tomatoes. It is quite filling so a small slice will be sufficient if there are other items on the platter, or if you still have a main dish to come. Spanish omelet is also nice for a box lunch. Just wrap a slice tightly in aluminum foil and it will stay nice and fresh.

Authentic Spanish Omelet Recipe
Eggs and potatoes team up to make this classic Spanish dish which can be served as a snack, appetizer or entree. Add some salt, onion and olive oil, and the flavor is complete. This is really delicious.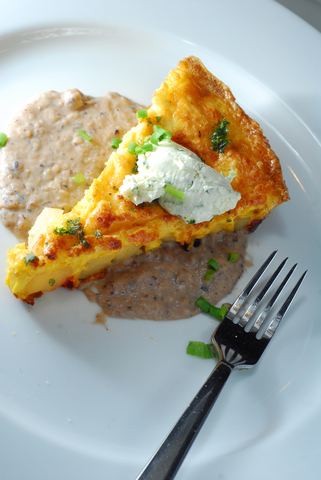 Author:
Victoria Haneveer
Prep time:
Cook time:
Total time:
Ingredients
5 peeled, thinly sliced, medium Idaho potatoes
7 eggs
1 finely chopped small yellow onion
Olive oil, as needed
Salt, to taste
Instructions
Heat a splash of oil in a pan over a low to moderate heat.
Add the potatoes and cook them, covered, for 10 minutes, or until they are tender.
Do not let them get crispy.
Meanwhile, heat ¼ cup of olive oil in another pan and saute the onions in there until the are translucent.
This should take about 5 minutes.
Strain the potatoes and onions into a bowl, draining off as much oil as you can.
Keep the oil if you want, to use in another dish.
Crack the eggs into a bowl and whisk them, then stir in the potatoes and onion.
Grind in some salt.
Heat a couple of tablespoons of oil in a skillet over a moderate heat.
Add the omelet mixture and turn the heat to medium-low.
Cook the omelet until the eggs are set, then lift a corner with a spatula to see if the bottom of the omelet is golden.
This will take about 8 minutes.
Put a plate over the top of the pan and flip the tortilla over.
Return the pan to the heat (you might need some more oil) and put the tortilla back in, so you can cook the other side for about 5 minutes.
Flip the finished omelet on to the plate, then you can slice it up for serving.
Some More Hot Content For You
Other Posts You Might Like